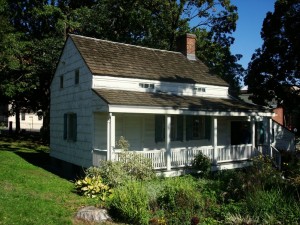 It looks as though Dorothy's farm house from Kansas was caught up in a cyclone and crash landed before getting to Oz. A tiny, two-story cottage sits at a busy intersection right off the Kingsbridge Road in the Bronx, a strange vestige of once hilly countryside and New York's remaining keepsake to one of America's greatest writers — Edgar Allen Poe.
It's hard to truly acclimate Poe as a New Yorker actually; most of his famous tales are set in Europe, and three other American cities (Philadelphia, Baltimore and Richmond) have equally rich claims to Poe's strange, nomadic heritage.
The Poe Cottage was the last home the writer ever owned. By this point in his career his erratic decisions and spates of bad luck fueled his alcoholism which only made everything worse. He had moved from Philadelphia to the Greenwich Village in 1844 with his wife Virginia and his mother-in-law, but the demands of the New York publishing world and the developing bohemian culture eventually drove Poe to the outskirts of town in May 1846, to cottage in the Bronx village named Fordham. Both husband and wife were ill — Poe from his excesses, Virginia from tuberculosis — and hoped the relative quiet of the countryside would cure them.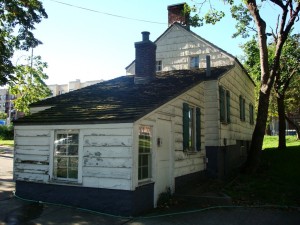 Despite paltry income, Poe managed to produce some of his best known work here at Fordham, including the poems 'The Bells' and 'Annabelle Lee'. But when Virginia died at the cottage just a few months later, in January 1847, Poe degenerated into crazy, booze-soaked wanderer, failing to produce any serious writing. Leaving Virginia's mother Maria at the cottage, Poe returned to Baltimore and died there in 1849 under mysterious, now-famous circumstances.
Despite the machinations of many to destroy his legacy, Poe's writings became popular with later generations, and when the fate of the cottage became endangered in 1890s with the construction of the Bronx Grand Concourse, a literary organization the Shakespeare Society intervened by purchasing the house. By 1913, the state authorized funds to move the entire house — literally, to the other side of Kingsbridge Road, which was being widened — to adjoin the recently constructed Poe Park, which features sidewalk carvings of his best known works.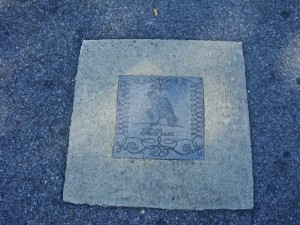 The cottage, fairly battered looking, will be closed for major renovation next year. It's across the street from a B and D subway stop, and just a couple blocks from a 4 stop. The $5 cover is kind of extravagant for such a tiny little house, so call ahead and make sure they're giving tours, which will make it worth your while.
This Friday the Bronx Historical Society is hosting a Poe Cottage fund-raiser at the National Arts Club in Gramercy Park.