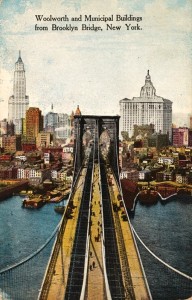 Tucked up on the second floor of the Metropolitan Museum of Art, "Walker Evans and the Picture Postcard" gives those colorful rectangular tourist tools their due. Evans, known mostly for his defining photography of the Great Depression, was an avid postcard collector, and the Met fills its walls with his collection. You'll be straining your eyes looking for your favorite American destinations, rendered in idealized, colorful hues and arranged in dizzying rows.
New York City of course plays a part, with eye-popping retro glances of the Flatiron Building, Columbus Circle, Chelsea Piers and many other famous city locales.
But the joy of this show is in finding places far off the beaten path, mindnumbing rows and rows of postcards from identical locations you've never heard of. The exhibit is accompanied by a few of Evans' own prints that seem to take cues from his particular passion.
The show runs until May 25, 2009 in the Howard Gilman Gallery on the second floor of the Met. More info on their website.
ABOVE Wish you were here: a photomechical view of Manhattan from the 1910s