Fall fashion in 1912: this lad named Chester enjoys the cool ocean breeze in this stylish suit, modeled here at Sea Gate, on the western end of Coney Island.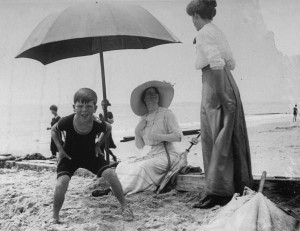 A year earlier, in 1911, Chester sports the latest in versatile beach wear, as his mother Mildred ensures not a ray of sunshine will hit her body.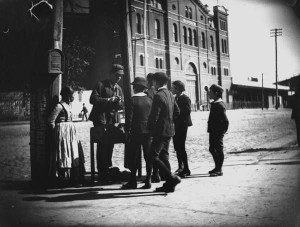 October 1887 — No ragamuffins here! On the corner of Flatbush and Atlantic Avenues, some well-dressed boys attempt to barter with a street vendor — apples for chestnuts.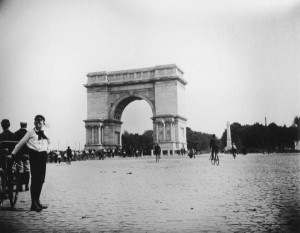 Grand Army Plaza, June 1895 — As bike riders stream past him and through the Soldiers' and Sailors' Arch, the young biker on the left proves large bows prove no hindrance to sportsmanship.
Click on photos for a larger view….
Photos by Wallace G. Levison, courtesy the Life photo archive