The cartoon below is from Puck Magazine, published in 1893. I believe this is a criticism of the 'manliness' of women's fashions in the 1890s, but I suppose it also works on an additional level as a 19th century indictment of gay marriage.
The caption: Justice of the Peace (somewhat near-sighted): 'Want to be married? Well–er–eh–which one is the groom?'
Click on the image for larger view: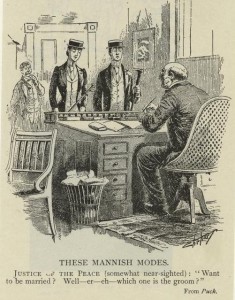 From New York Public Library digital gallery
Be back here tomorrow for a lot more on Puck Magazine….