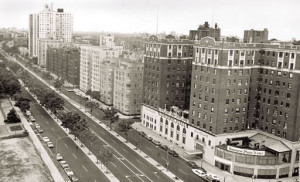 The Concourse in 1966 (pic courtesy the Museum)
The wide boulevard known as the Grand Concourse, turns 100 this year, and the Bronx Museum celebrates with Intersection: The Grand Concourse Beyond 100, part history lesson, part community outreach looking to revitalize and rethink the borough's most prominent street for a new century.
The Concourse was originally planned as a means for Manhattanites to get to Pelham Bay Park and to the newly built parkways along the north and east Bronx. What they got in 1909, as designed by engineer Louis Aloys Risse, far exceeded its function, a broad, elegant, tree-lined street lined with art-deco apartment buildings, ornate theaters and shops. Even Yankee Stadium tagged along in 1923.
The Museum's exhibit features photographs of its entire history, from its construction to its decline in the 60s and 70s. Although it's yet to truly return to the fortunes of its glory days, the Concourse will receive a partial restoration and rezoning of its lower section in a proposal from the mayor's office. The exhibit also presents a competition for budding civic planners on how the Risse's creation "can evolve in coming decades to cope with pressing needs for housing, green space, and transportation." (If you want to participate, the deadline for signing up is this Friday!)
Visit the Bronx Museum's website for more information. The Museum, conveniently located on the Concourse, runs the exhibit until July 20th.