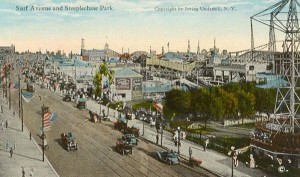 Steeplechase Park in the old days
With the nice weather, I was in a very Coney Island state of mind this past weekend. So I was happy to learn this week's podcast topic has its own connection to the amusement capital's glory days.
There's a black rod-iron fence that encircles the Puck Building, a rather curious feature on an already curious building. That fence was actually taken from one of Coney Island's greatest theme parks, Steeplechase Park.
When the gate was taken from Steeplechase and added to the Puck Building is a bit of a mystery, but the most likely date would have been 1964, when Steeplechase was closed for good.
Dick Zigun, the un-official 'king' of Coney Island, mentioned on the Coney Island message board: "In the 1980's there was … an article and photo in The Daily News. It showed the Steeplechase Fence around the Puck Building in Manhattan (Lafayette and Houston)."
As one of the first Coney Island amusement parks, Steeplechase drew thousands of people each summer with such rides as the Human Roulette Wheel, the Pavilion of Fun, the parachute jump and of course the Steeplechase horse race.
Below: the Steeplechase fence wraps around the front of the Puck Building


Before heading out there this summer, check out our two-part podcast on the history of Coney Island: The Golden Age and 20th Century Freakshow.
(Thanks to podcast listener Bruce CS for sending in the above tip! Above postcard courtesy Adam Sandy.)