Come see the Wonder Wheel, the king of hot dogs, the "Freaks" in the Dreamland Sideshow, a beached whale and Donald Trump's dad — all in one place! Its Coney Island of the 20th Century. But will it be around much longer in the 21st?
Listen to it for free on iTunes or other podcasting services. Or you can download or listen to it HERE
Before we begin, I should stress that these next few weekends may be the last for Astroland. (Apparently they'll still be open on the weekends throughout the month of October.) The rumor is that there are some last minute negotiations going on to allow Astroland one more season next year, so cross your fingers. Dino's Wonder Wheel Park , with plenty of rides and arcades to tide you over, is also still open through October. Two independent rides, the Spider and the Zipper, are already in the process of being dismantled as I type, and will be shipped to fairs in Honduras, Central America.
Some images to go with today's podcast on the modern history of Coney Island:
Coney's most famous early sideshow, the Dreamland Sideshow was built by Samuel Gumpertz from the ashes of the still smoldering Dreamland amusement park. Its cast of characters would later star in the early film classic 'Freaks'.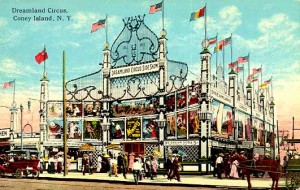 By the time William Henry Johnson joined the Dreamland Sideshow, he was an old man and had already been touring in circuses and freak shows for over 40 years. The son of former slaves, the New Jersey-born Johnson was born with an abnormally shaped head, but was not actually microcephalic(a medical condition that deforms the human skull at birth). His stage name, coined by PT Barnum, was Zip What Is It, the missing link between human and apes. (Ah, the age before political correctness.) When Zip died at age 84, his sideshow friends served as his pallbearers.
According to one account in 1925, he rescued a young girl from drowning. Considering he must have been in his 70s, his bravery and stamina should have been heralded. However, perhaps due to years of conditioned shyness, he fled after rescuing her for fear being spotted.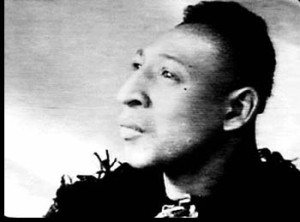 Lots more pics of William and other 'official' microcephalics or 'pinheads' can be found here. He was not in the movie 'Freaks' but Schlitzie was. (Click the link above to discover who that is.)
Silent film stars Fatty Arbuckle, Buster Keaton (looking buff), and Al St. John teamed up for an amusing lark "Fatty at Coney Island," released in 1917, featuring the still-flickering lights of Luna Park, old time bathing suits and fancy bath houses.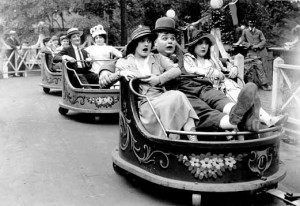 With the advent of the new subway, public beaches and a strong new boardwalk, people from all walks of life were able to enjoy themselves on Coney Island. Oy!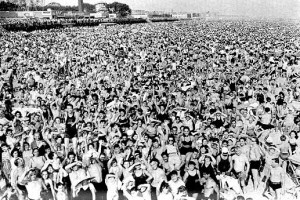 Nathan's Hot Dogs, as crowded then as it is today on a hot summer's day.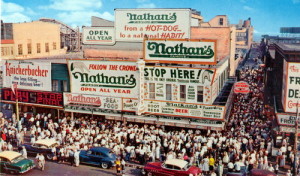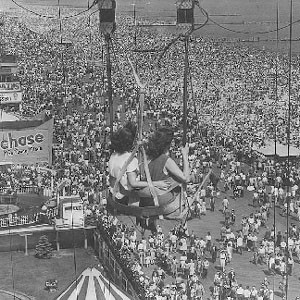 A lofty view from the Parachute Jump, overlooking thousands of visitors below. Its easy application as an amusement belied its original purpose as a military training machine. The Jump was sponsored by Lifesavers candy during its run at the 1939 New York Worlds Fair in Flushing Meadows, Queens, where it was one of the most popular attractions there and was even the scene of a wedding. Its no longer operating now, but has been given fresh colors reminiscent of its Lifesavers days, and it even lights up during the season.
One of Coney Island's other rollercoasters that didnt make it into the 21st century, The Thunderbolt was dismantled during the building of the minor league ballfield KeySpan Park.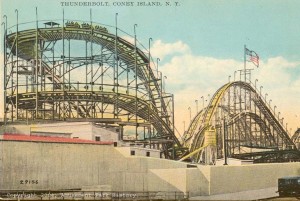 Another Coney Island rollercoaster was the Tornado, which was built in 1926 and burned down, a common fate of amusements here, in 1977. Note that the Tornado was built before the Cyclone. Hmm, who's ripping off who here?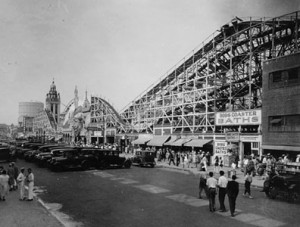 The remaining rollercoaster, of course, gave its name to the minor league team that now plays closeby: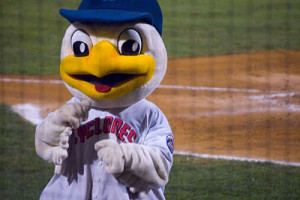 Here are a few mockups of potential renovations by Thor. They have gone back to the drawing board many a time. Gothamist even reports the city may be attempting to scuttle Thor's plans altogether with talks with Copenhagen's Tivoli Gardens, the 164 year old park that was certainly an influence on the old Coney Island parks: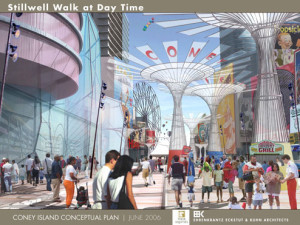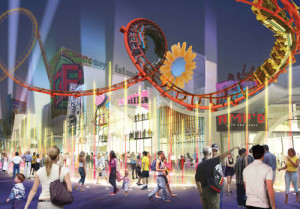 Here are some other plans by Thor.
And I thought I'd end our presentation with a few that I took myself this past weekend…..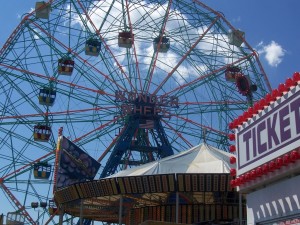 The beach on a beautiful day. From this angle, the Robert Moses influence can be readily seen: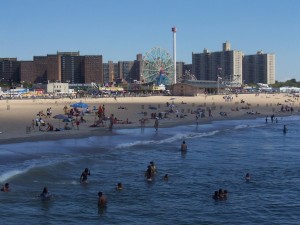 You can still go see the sideshow, perhaps a bit more politically correct than it was in the past.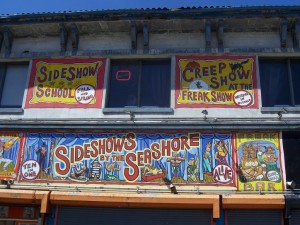 A bit of Coney's faded glamour…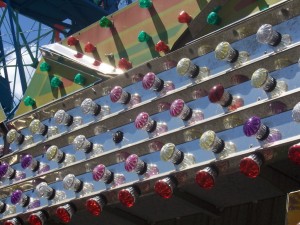 Its "makeup may be flaking" but the Parachute Jump lingers on, in less jovial environs than its used to.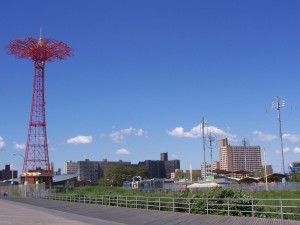 This cost $3.35, still a bargain for something so decadent, but nowhere near Nathan Handwerker's original selling price of five cents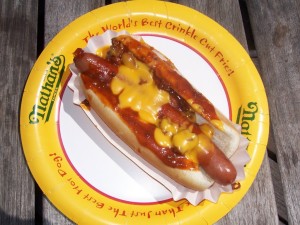 Here's where Nathan's has stood since he opened it, in 1916. Since then, he's also opened another location closer to the boardwalk. One of Nathan's first employees was a young redheaded girl named Clara Bowtinelli, who would later shorten her last name to Bow and become one of the silent film era's biggest stars as Hollywood's 'It' Girl.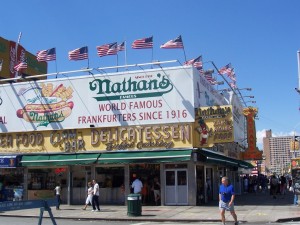 This is Childs Restaurant, along the boardwalk, one of the oldest structures still standing on Coney Island. Built in 1924, it was able to withstand the many fires that swept through Coney and in fact shielded buildings close by from the flames. A developer intends to re-open Childs as a restaurant once again in the near future. It was opened for the first time in many, many years during this year's Mermaid Parade.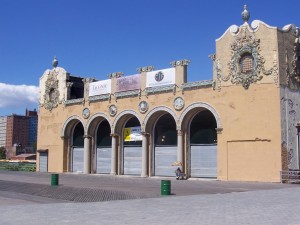 Childs in its glory days: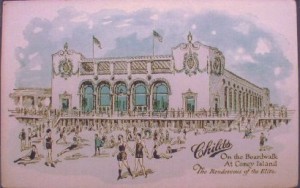 Some detailed information about Childs can be found here.
If you'd like more information about some current activities in preserving Coney Island, try the Save Coney Island page or the lovely official Coney Island webpage.
Many of the blogs in our blogroll have far more in-depth information about Coney Island that we do. I suggest you start with Kinetic Carnival or Gowanus Lounge first. A very exhausting site on its history (with lots of photos and interactive maps) can be found here.
Finally, how could I forget The Warriors, the seminal cult 1979 film, set through much of Manhattan but featuring an explosive finale at Coney Island? Visit its tribute site or rent it today.
Last year I was fortunate enough to go to a special screening of the film at Coney Island that was sponsored by Netflix and featured many members of the cast.