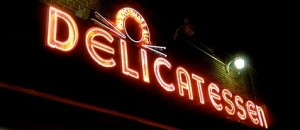 I've got something ambitious planned starting on Monday, March 8th, that will run all the way until March 19th, when we will launch our 100th Bowery Boys podcast.
As I prepare for all that, I thought I'd re-present some of our most popular podcasts, culminating this Friday on our most popular podcast, in a fancy-schmancy, upgraded illustrated version.
First off, our fourth most popular podcast also happens to be my most downloaded solo show — a history of Katz's Delicatessen, the classic deli with salamis in the window and celebrities adorning the walls.
Why Katz? Who doesn't like hearing about food? Also included: a short history on two other Lower East Side culinary staples — Russ And Daughters and Yonah Schimmel Knishery
As with all our shows, download it directly from this site, find it on iTunes or other podcasting services, or listen to it below: