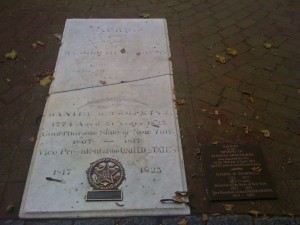 So I got caught in the rain yesterday afternoon and happened to be by St. Mark's On The Bowery in the East Village, so I ran inside. And lo and behold, in the church yard, I stumbled upon the crypt marker of Daniel D Tompkins, who I just spoke about in this week's podcast — the father of Tompkinsville and the Richmond Turnpike Company, precursor to the Staten Island Ferry.
Tompkins is interred with his wife's family in the Minthorne vault at St. Mark's. The smaller marker next to Daniel's is for another member of the Minthorne clan — his father in law Mangle Minthorne.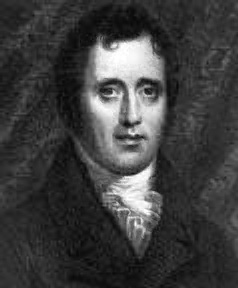 Tompkins was a former New York governor and spent his last year, while nurturing his little community in Staten Island, as Vice President of the United States under James Monroe. His links to the city are numerous, of course. He was also a founder of the New York Historical Society and a vociferous rival of Columbia College classmate DeWitt Clinton.
His most notable accomplishment was probably as governor with an act of the gradual abolition in the state in 1817; however debts accrued during the War of 1812 led Tompkins to become an excessive drinker. He would often preside over the Senate totally trashed.
"He was several times so drunk in the chair that he could with difficulty put the question," according to a contemporary, Dr. James Bronaugh. Tompkins died 175 years ago this month, on June 11, 1825.
He is, of course, the namesake of the East Village's biggest park, Tompkins Square Park.