Kids these days! With their fancy selection of Halloween costumes, with ornate detailing and comfort, with their diversity and realism.
For thrifty parents in the 1970s and 80s, the decision to costume their children usually led to the rows of Ben Cooper Halloween smocks and plastic body garb, topped with a mask (held to the head with a rubber band) looking vaguely like the character it alleged to embody. On top of the standard fair Draculas and Frankensteins, one could often find Chewbaccas, Spider-Mans, Mickey Mouses and other, non-traditional creations.
The many visages of the Ben Cooper brand: faces from a 1980 product catalog. (You can check out the whole catalog at Plaid Stallions)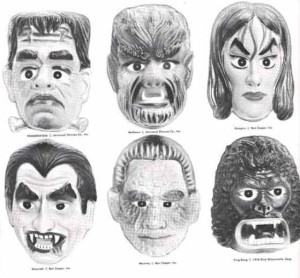 They reeked strongly of plastic and were one-size-fits-all. Still, throw in a plastic jack-o-lantern to hold your candy and a flashlight, and you were set for trick-or-treating every October 31st.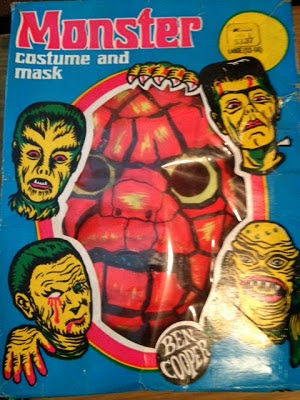 Halloween was synonymous with Ben Cooper products for many children. The variety and simplicity of the little synthetic outfits — paired with the company's savvy licensing division — made them staples of the season, until an early '80s damper that brought on a decade of financial woes and eventually bankrupted the company.
Ben Cooper Inc., the company that manufactured these tiny costumes, was a homegrown New York company through and through. The headquarters for this magical, mystical place of costumes was located near the edge of Sunset Park (a couple blocks away from Green-wood Cemetery), at 33 34th Street, Brooklyn, New York, among the nondescript warehouses and storage facilities that face into the Gowanus Bay, not far from the very first settlement (in 1636) in a region that would become Breukelen. If only the Ben Cooper company had known! He could have made Dutch Walloon masks and smocks.
The man behind the cheap costume empire, Benjamin Cooper, was born in 1906 in the Lower East Side and was given his first costume (a little devil suit) at age 7. After a brief stint as a songwriter on Tin Pan Alley, Cooper segued into the theatrical costume business in 1927 when he was 21, making costumes for chorus girls at the Cotton Club in Harlem and even a few latter-year Ziegfeld Follies.
Cooper pretty much fell into the Halloween regalia business. American businesses were turning holidays into retail opportunities, upgrading obscure traditions and inventing new ones. Religious iconography and culture-specific celebrations were forced to share its holidays with mainstream, family-friendly motifs. The practices of Hallowe'en, with its Celtic, Christian and medieval origins, were melded with newer modified customs that were, conveniently, fueled by American retail products.
Namely, trick-or-treating, which was not a widespread component of the holiday until the 1930s. One source I read theorizes that the organized custom of going house to house for a candy treat developed as a way to control late-night Halloween vandalism like egging and papering houses — although, of course, it's hardly stopped those practices. (I can't find any reference to 'trick-or-treating' in the New York Times before the 1940s)
The growing popularity of trick-or-treating facilitated a need for mass-produced costumes, and Cooper was there to make them. He left theatrical costuming entirely and started his new company, Ben Cooper Inc., in Red Hook in 1937.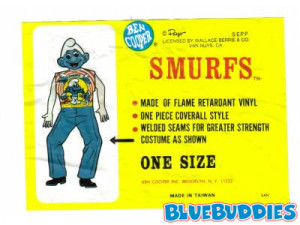 The secret to his success was licensing. During his first year, he merged with a company that held the merchandising rights to Walt Disney's characters and would soon define his business using the imagery of pop culture favorites. (At right: Smurfs rendered in the Ben Cooper aesthetic, courtesy the Smurf website Blue Buddies.)

Cooper dominated this market for most of the mid century with few competitors, offering children of the 1950s ensembles like Davy Crockett and Raggedy Ann. Real humans entered the mix in the 1960s with a popular set of Beatles costumes. (Less popular in 1963 was the unfortunate manufacture of JFK and Jackie costumes.) Film and television stars dominated the 1970s, with characters from Star Wars, Sesame Street, even (controversially) the monster from Alien. And most manufactured here in Red Hook.
"The entire line of flame-retardant capes, playsuits (sizes 4-14), ponchos and masks sells for $2 to $5 in K marts, Kresge's, Woolworth's and other chain stores across the U.S." says a 1979 People Magazine profile of Ben Cooper.
Ben Cooper Inc. fell upon hard times in the 1980s, when the Tylenol cyanide fear spread to paranoia about poisoned Halloween candy, for a time curtailing the yearly ritual and sending profits plummeting. Costumes by rival companies were also getting more sophisticated; they already had to fend off the likes of Collegeville and Don Post, who cornered the rubber-mask market.
The company declared bankruptcy and moved out of New York in 1991 and was swiftly folded into another rival Rubies Costumes. Ben Cooper remains one of New York's greatest contributions to the Halloween tradition and is fondly remembered today, even if nobody will ever admit to being very comfortable wearing the nostalgic, plastic garb.
Trick or treating, by the way, didn't shoehorn its way into the practices of American children without a fight. Indeed, in 1948, members of the Madison Square Boys Club, most likely encouraged by their adult members, marched in a city parade protesting the practice of going to strangers' houses and asking for candy. Their banner? "American Boys Don't Beg."