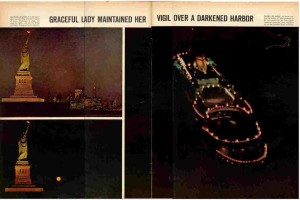 ABOVE: Liberty keeps her lights on during the blackout of November 9, 1965
Photos courtesy Life Magazine, via the Blackout History Project
Forty-five years ago, during the 5pm rush hour, the entire American Northeast and parts of Canada were attacked by Unidentified Flying Objects from outer space who used their intergalactic powers to cause an electrical blackout that kept New York in the dark for ten hours.
Facts, of course, reveal that the blackout was actually caused by an electrical surge from the Robert Moses (!) Niagara Power Station that overloaded neighboring power lines and automatically caused electrical power interruptions throughout the region. The outage rolled through northern states and eastern Canada, arriving in New York just in time for rush hour sometime before 5:30 pm.
According to Life Magazine, "The abrupt reversal took place just as 600 New York City subway cars were rolling with their rush hour passengers, when elevators in skyscrapers were hustling tens of thousands to the streets, when housewives were lighting up homes and preparing dinner on electric stoves and warming up TV sets for the evening news."
Over three quarters of a million people were stranded on mass transit, most underground. Grand Central was even more chaotic than normal and some commuters were forced to camp out there and in the lobbies of nearby hotels overnight. Park Avenue skyscrapers kept workers imprisoned in elevators.
Believe it or not, almost all those trapped in trains and elevator shafts had been freed by midnight, and the city met the darkness with little looting or violence, especially notable considering the mayhem stirred by the disaster known as the blackout of 1977. The 1965 event was perhaps more in line with the blackout of 2003, which lasted well over 24 hours in many parts of the city, but resulted in no significant spike in crime.
Below: It's business as usual — with a little romantic candlelight — at a local New York barbershop. Many store owners stayed open later to accomodate stranded commuters and even kept people overnight until the power was fully restored by morning.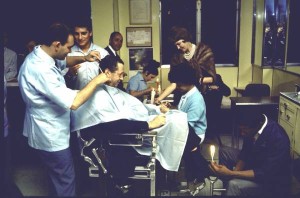 One component that the '65 fiasco had over the other blackouts was a rise in UFO spottings throughout the Northeast, including many in the city. Some naturally theorized that the bright orbs seen in the sky might have caused the event; major newspapers speculated on it, and advisers to even hinted at it in updates to the White House.
People in the Time-Life Building on Sixth Avenue reported seeing a glowing 'spindle shape' in the sky, and a Life Magazine photographer even snapped it and ran a shot in their next issue. A woman just north of Manhattan reported seeing "a disk hovering and going up and down. And then shooting away from New York just after the power failure."
Nothing ever really came of these purported sightings outside of providing a proper crescendo to the UFO craze of the early 1960s. Although reports of silvery globes floating over Chelsea alarmed pedestrians just a few weeks ago. (They were probably balloons.) The closest I've ever seen to an unidentified object floating overhead in New York was probably this.
This is worth a look — the NBC News technically spotty coverage of the blackout, featuring a statement the spokesman of Governor Nelson Rockefeller:


This reminds me — what would Don Draper be doing?

Maybe one day we'll do a podcast on the '65 blackout, but in the meantime, you can hear one of our early podcasts on the topic of the 1977 Blackout. Download it here.