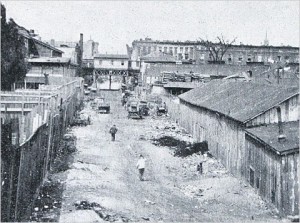 What lies beneath: "Site of the first church burying ground of New Harlem. Viewed from 127th Street and Willis Avenue Viaduct" (From the book New Harlem Past and Present, 1903 via NYT)
Elmendorf Reformed Church, which traces its lineage to New Amsterdam and the earliest days of the village of Haarlem, currently makes its home at East 121st Street and Third Avenue. But it once occupied a spot on First Avenue between 126th and 127th Streets, near the banks of the Harlem River. And although the city built a bus depot over part of that spot in 1947, a vestige of the former congregation still exists underground.
Community organizers are still waged in a battle with the city over Elmendorf's former burial ground, with interments from the early 17th century and well into the mid 19th century. The MTA is interested in ripping up the old bus depot and replacing with a new modern facility; Harlem community leaders want the depot gone and not replaced.
Once known as the Reformed Low Dutch Church of Haarlem, the congregation's current name comes from its late 19th century leader, the Rev. Joachim Elmendorf, already an august religious leader upstate when he arrived in Harlem in 1886.
The Uptowner has the latest on the controversy. The New York Times originally wrote about the discovery in this article from January 2009.