Getting ready for its 100th birthday on May 23, the main branch of the New York Public Library — I guess we're calling it the Stephen A Schwarzman Building now — has been free of most of its oppressive scaffolding for a couple weeks. This was the scene in the morning fog yesterday: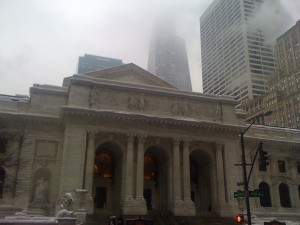 And what the front steps have looked like for most of last year: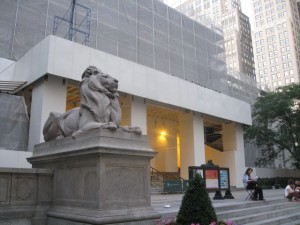 Photo above DNAinfo/Jill Colvin
If you happened to be around 100 years ago, you might have been able to send the postcard below to your friends. For some reason which I can't really explain, they've managed to include a little blurb in the corner about Peter Doelger's "first prize brewery." Lest you be confused that perhaps the library contained the brewery's 'copper kettles' in its basement, the actual Doelger brewery, one of the largest in New York, was located on E. 55th Street (at First Avenue).