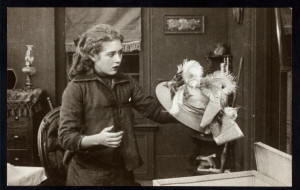 Fashion weak: Mary Pickford finds millinery mischief in the 1912 feature 'The New York Hat', a Biograph film by D.W. Griffith.
This was an especially unusual show to arrange and represents a closely cultivated tour through New York City's early film history.
But early movie studios spread beyond New York's borders. Most notably, Fort Lee, NJ, became as active as New York in the 1910s, especially as the sophistication of filming processes allowed more productions to be shot outdoors and long running times meant story lines with multiple sets. D.W. Griffith's first film, Rescued From An Eagles Nest, for Edison, was shot on the Fort Lee Palisades. But this wasn't his directorial debut; he was the star of that film.
Soon all the major studios would have locations in Fort Lee and other places along the New Jersey coast. You can find more information on Fort Lee's contributions to cinema at
the Fort Lee Film Commission
.
We had to cut off our coverage of New York's film history at the early 1920s, or else it would have been an endless show, and one of us would have collapsed in exhaustion! But obviously we plan to pick up the topic again from this point in a later show.
One note of clarification: I mention that Fox 'got his start' in Staten Island. I meant to state that Fox would get his start in
film production
in Staten Island; indeed, in 1914, the ambitious film distributor began his very own studio and began making movies from his three small studios in Fort Lee, Jersey City, NJ, and a place called Scott's Farm, in the neighborhood of Grasmere, Staten Island. Within a year, that studio would be named Fox Film Corporation and move out to Los Angeles. Less than twenty years later, weakened by debt, Fox merged with Twentieth Century Pictures to form Twentieth Century-Fox (yes, with a hyphen, which was later dropped).
Edison's laboratory in West Orange, NJ, is definitely worth the trip, and not just to see the replica of the Black Maria. The National Park Services operates
the Thomas Edison National Historical Park
with tours of the laboratory complex and the Edison home Glenmont, where the inventor himself is buried.
Tom mentioned that Edison's first demonstration of his kinetoscope — and its first film 'Blacksmithing Scene' — was exhibited as the Brooklyn Institute of Arts and Sciences on May 9, 1893. That organization was the forerunner to the Brooklyn Museum.
We planted a few specific addresses in the podcast for you to search out during one of your wandering adventures through the city. See if you can find the plaque at
Macy's
honoring the theater that once stood there, Koster and Bial's Music Hall, and occasion of the debut of Edison's Vitascope. One of the first modern movie houses,
the
Regent Theatre
in Harlem, is still around, but it's no longer a theater. It's owned by the
First Corinthian Baptist Church
.
For a clearer picture of early film history, you should supplement this podcast with the first three parts of the TCM documentary
Moguls and Movie Stars
, their mini-series on the history of the movies. The best place find some of these very early films is the Library of Congress, which includes a wonderful page on early on-location pictures,
The Life of a City: Early Films of New York 1898-1906
.