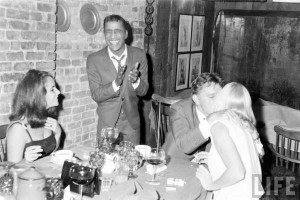 Above: Liz with Sammy Davis Jr., with her husband Richard Burton kissing (!) another woman*. I'm not sure where this is taken, but as it's from the LIFE collection by photographer Leonard Mccombe, it's probably from the evening of October 20, 1964, after the opening of Davis' hit musical 'Golden Boy'.
Elizabeth Taylor (1932-2011), who died this morning in Los Angeles at age 79, was a fixture of New York nightlife, comfortable in smoky nightclubs like the Waldorf-Astoria's Empire Room and the Copacabana in the 1960s. She even became a staple of 1970s glitterati, evidenced by her 46th birthday party at Studio 54, a soiree thrown for her by the fashion designer Halston and her good friend Andy Warhol.
From Victor Bockris' biography on Warhol: "Elizabeth Taylor's birthday cake was baked in her image and wheeled out by the Rockettes dancing in choreographed precision."
From one of Taylor's many biographies:
"Elizabeth and her mother had spent three whole days in Chicago, en route to New York, going on a shopping spree at Marshall Field …. In New York, it continued: they shopped round the clock for her bridal trousseau. Conrad Hilton had said to her, 'Elizabeth, when you walk through the doors of the Waldorf, I want you to feel perfectly at home.' When she went to register, the desk clerk handed her an envelope. Inside was a block of Waldorf-Astoria shares, making her a part-owner of the place right away. She felt perfectly at home."
— From Elizabeth: The Life of Elizabeth Taylor By Alexander Walker
Below: from a 1986 Life Magazine photograph, a tribute to the actress at Lincoln Center with some of her famous friends, including Warhol, Roddy McDowell and Maureen Stapleton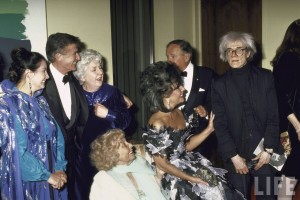 *Thanks to a reader for pointing out that the 'other' woman was May Britt, Sammy Davis' wife!