Today is a day of big historical remembrances, from the 150th anniversary of the first battle of the Civil War to the 50th anniversary of man's first entry into space.
But to me, April 12th will always be the day that William 'Boss' Tweed died in his cell at the Ludlow Street Jail in 1878, locked up for his far-reaching crimes of corruption and graft.
We're working on putting together a new podcast for this Friday, but in the meantime, here's a reprint of an article on the Ludlow Street Jail I wrote back in 2008, in support of the Riker's Island podcast: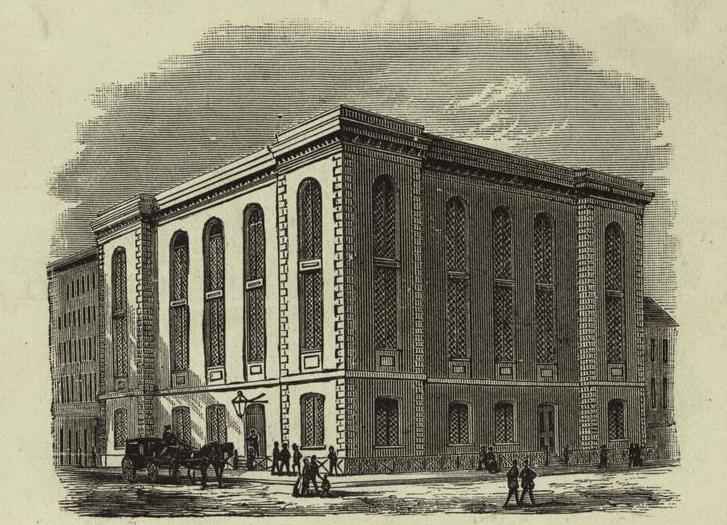 Above: the Ludlow Street Jail, at the corner of Ludlow and Grand streets. (Courtesy NYPL)
Despite being in sight of two boroughs and a very large airport, Rikers Island lulls us with psychological assurance of feeling remote and entirely sequestered from our regular world. But never fear, New Yorkers; there are prisons all over the damn city.
Take the Bayview Correctional Facility, a former Seaman's YMCA turned medium security prison for women. It's in Chelsea, 20th street and 12 Avenue, not far the Chelsea Piers sporting facilities. Or the modern day version of the Tombs, officially the Manhattan Detention Complex and once called the Bernard Kerik Complex. (Poor Kerik. Imagine being so disgraced from misdemeanor charges that they strip your name off of a jail.)
But our current correction system benefits from increased security advancements, better run facilities, and relatively humane treatment of inmates. Quite unlike the world which greeted Rikers Island when its first jail opened in 1932.
The prisons of New York City were notorious for atrocious conditions, disease, frequent escapes, corruption and disorganization. The most notorious of these jails, the original Tombs, sat in the festering shadow of a drained Collect Pond, creating a leaky, damp world, or as James Baldwin once described, "a place of sorrow and tears and dread forebodings." The original Tombs, which opened in 1838, with its ostentatious Egyptian facade, sat close between Five Points and City Hall and often filled its cells with residents of both.
The prisons and workhouses on Blackwell's Island (later Welfare Island, then Roosevelt Island) were equally as moribund when paired with the island's wretched asylum, smallpox hospital and other places one wouldn't wish to throw a birthday party.
We have the beautiful garden of West Village's Jefferson Market as a keepsake to the former New York Women's House of Detention. Its proximity to West Village foot traffic was the bane of the neighborhood until it closed in 1974. Activist Angela Davis was kept here before being acquitted of murder charges in 1972. Florrie Fisher was also a regular here.
But my favorite former prison location, however, has to be the Ludlow Street Jail, formerly at the corner of Ludlow and Broome, opened in 1862 and sat for many years smack in the middle of a stretch of residential tenements. Originally a debtors prison, the red-brick jail complex, with its 87 cells and an open courtyard, later kept county detainees, some of whom could pay to receive slightly better accommodations as though it were a hotel.
From this picture of the Ludlow jail interior, things don't look so awful there. I mean, billiards in top hats?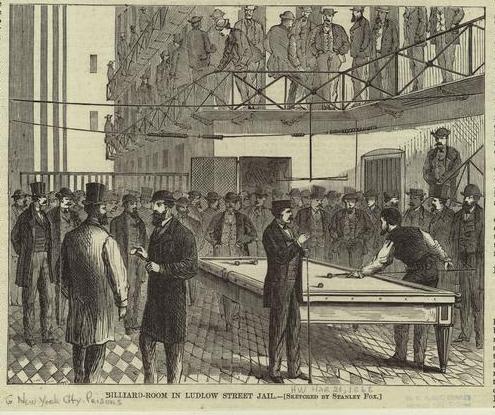 Victoria Woodhull, the free-love advocate who became the first woman to run for president, spent her 1872 election day in a jail cell here at Ludlow Street for sending obscene materials through the mail, documenting the alleged womanizing of Plymouth Church's Henry Ward Beecher.
More notably, the king of Tammany Hall corruption, 'Boss Tweed, died inside a prison cell here on April 12, 1878. Although some accounts claim the Ludlow jail to be better than most — with wide windows allowing sunlight and "probably not surpassed by any prison in the United States" — the doctor who pronounced Tweed's death mentions it was brought on by "prolonged confinement in a unhealthful locality."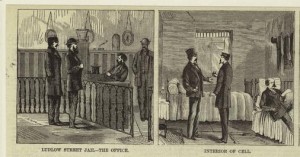 Curiously, the once-powerful Tweed had partially overseen the construction of Ludlow's jail and, according to his biography by Kenneth D. Ackerman, his former friends remarked, "If Mr. Tweed had known he was going to patronize it, he would have made the rooms more commodious."
Below –Â From a Thomas Nast cartoon, with the caption: Â The spirit of Tweed is mighty still "…and even yet you don't know what you are going to do about it!"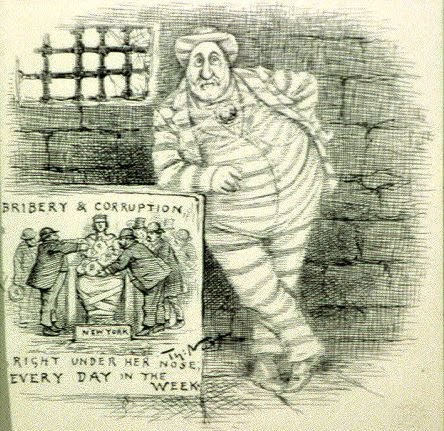 By the 1920s, the prison was affectionately referred to as Alimony Jail for the number of deadbeat husbands contained there. In 1929, the block was cleared to make way for what many would consider a new form of incarceration — the new Seward Park High School. (The original, which actually did sit next to Seward Park, was moved due to subway construction.)
It should be noted that this school was notable for poor performing students and an alarming amount of dropouts and was eventually closed in 2006. Five new smaller high schools now share the building. Former "inmates" of this institution include Tony Curtis, Estelle Getty, and Jerry Stiller.
(Below) Seward Park High School today, a prison for some, built over the site of an actual prison