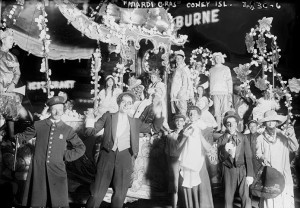 A century-old party: ghoulish revelers from the 1911 parade
An even larger collection of freaks and aquatic oddities than Coney Island's everyday normal assortment will come slithering down Surf Avenue this Saturday with the 29th annual Mermaid Parade.
The parade is the heart of Coney's modern freak-show aesthetic, Christmastime for the tattooed and glittery. Most people think that, unlike most New York City parades, the Mermaid parade celebrates nothing specific, only a joy of costume, summertime and silliness. In fact, Coney Island 'mayor' Bill Zigun and Coney Island USA created the parade in 1983 as an homage to an even more legendary seaside tradition: the Coney Island Mardi Gras parade.
Let that stew in your mind a bit. Coney Island meets New Orleans.
The annual Mardi Gras celebration lasted from 1903, the heart of Coney's heyday, until 1954 — the heart of the Robert Moses years. Curiously, it always took place in mid-September, which I suppose is a nicer time for a New York parade than February, the traditional date of Marti Gras. Instead, the parade was timed to coincide with the end of the summer season and the annual shuttering of the amusement parks.
Below: The 1908 festival, with nighttime floats and frippery (Click to see an enlarged version of this picture at Shorpy.)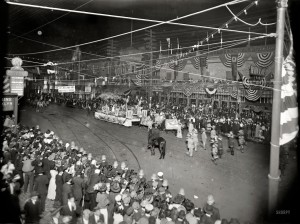 In 1906, the great parks of Coney Island like Dreamland were still standing, but other current draws, like Nathan's famous hot dog stand, wouldn't be open for many years. Even still, the Mardi Gras parade that year managed to attract 500,000 people. "Police Commissioner [Thomas] Bingham visited the Island and had [his] full share of attention from confetti throwers and wielders of the 'tickler'."
I don't know what a tickler was back then, but the idea of what I think it is being thrust at a police commissioner is absurd. Probably a souvenir from a Luna Park ride called the Tickler (which doesn't look that fun, see image from 1906):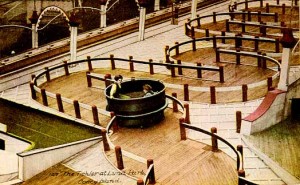 That same year brewery mogul Herman Raub (pictured below), founder of the Coney Island railway, was anointed king of the parade.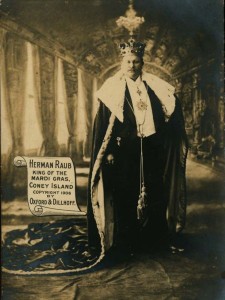 The Mardi Gras parade sounds like it was a horrifying, chaotic, fabulous mess. In 1911, the celebration also gathered about a half million people to view this tenuously religious celebration.
It seems part of the fun of the original Mardi Gras involved drunken displays of violence. "Gangs March Through Street Insulting Women and Wrecking Stores And Restaurants" shouts the Times. "Several Hundred Arrested."
Despite rampant (probably exaggerated) violence, the parade became the star of a wacky Fatty Arbuckle-Buster Keaton film, the 1915 'Coney Island'. It hit celluloid later in 1935 in the Popeye the Sailor Man short 'King of the Mardi Gras'.
By 1921, the parade had to deal with a new menace — Prohibition. "It was agreed that Prohibition had struck Coney Island a staggering blow." Many revelers dressed in costumes that "referred satirically to blue law advocates."
One popular event at the parade was the annual 'prettiest baby' competition. In 1921, the winner was "Rita Murphy, 6 years old, of 2,005 Sixty-Third Street, Brooklyn, dressed as a jockey." The tot was awarded "a ninety-two-piece silver set which she can use to start housekeeping when she gets married." What a future young Rita had in store for her!
The parade sadly petered out thanks in part to Robert Moses's ridiculous plan to turn the area into "an area of predominantly residential character." Brooklyn Pix has a good shot of the final Mardi Gras spectacle, and it looks alarmingly similar to today's Mermaid Parade.
Check here for all the details on this year's Mermaid Parade. I'll see you down there!
This article is a modified reprint of one I wrote back in 2008.