One hundred years ago today (June 23), the big news was the coronation of England's King George at Westminster Abbey. Judging from the New York papers, American fascination with this event makes the recent royal nuptials of William and Kate seem like a forgettable folly. The June 23, 1911, issue of the New York Tribune is filled with illustrations of queens, crowns and processions.
What grabbed my attention, however, was the king-themed advertisement that ran big and bold on the second page. Here are two sections of it (the original is here):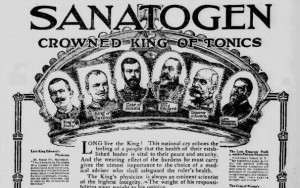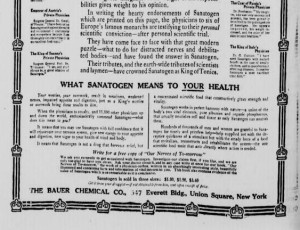 Sanatogen was a kind of vitamin water, "a concentrated scientific food that constructively gives strength and vitality." According to this advertisement, most of the crowded heads of Europe swear by it!
What caught my interest, however, was the location of its American distributor — the Bauer Chemical Co. in Union Square. A chemical company in one of New York's most bustling public spaces?
Bauer was located in the Everett Building*, at the northeast corner of the park, right across the street from the Germania Life Insurance Company Building and, back in 1911, catty-corner from the headquarters of Tammany Hall. The Everett, with its simple and rigid face, was designed by Starret & Van Vleck, famous for their department-store designs. Indeed, the uptown flagships of Lord & Taylor and Bloomingdale's look like more elegant versions of the Everett.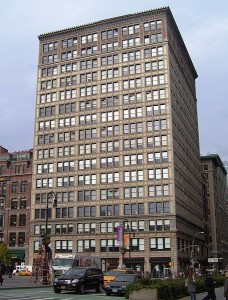 Bauer moved in sometime after the Everett's opening in 1908. They were the exclusive distributor of Sanatogen in the United States and seem to have done quite well by it. "Nerves have a Hunger of their Own," said one ominous 1916 advertisement. "Sanatogen helps satisfy it." It also cures "Neurasthenia" and "Cholera Infantum." Remarkable!
The reason anybody really knows The Bauer Chemical Company is that it was a party in a landmark U.S. Supreme Court case, Bauer & Cie. v. O'Donnell, a case involving the sale of Sanatogen, essentially affirming that selling the product below the suggested price to customers, as one druggist O'Donnell attempted, did not violate the terms of license.
After the trial, it appears the company moved a block over to Irving Place by the mid 1910s. I'm not sure what happened to them after that. However, although King George is long gone, you can still buy Sanatogen in the U.K.! And their products seem to be labeled to accurately describe their recommended usage.
*The Everett Building is named for the Everett House, a luxury accommodation that once sat at this very corner. In its day, the Everett played host to many a Democratic bigwig — Tammany was across the street after all — and, since we're on a British royal kick, once housed the Prince of Wales in 1860.