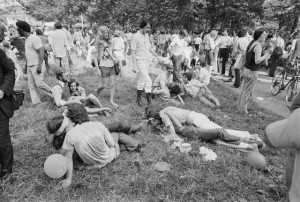 Above: From a great photo stream of images from the 1971 parade by Me In San Fran/Flickr (check them out here)
I happened across some rather extraordinary archival videos on YouTube posted by Randolfe Wicker, recorded in 1971 at New York's second Gay Pride festivities ever, initially called the Christopher Street Gay Liberation Day. In those days, the march headed north (almost all New York parades head downtown), terminating in a rally at Central Park.
Mr. Wicker's video features interviews with parade participants and focuses on a controversy involving a 'nude-in' that spontaneously erupts at the rally. Hey, it's 1971 after all! (The nudists in the third video are blurred by the condition of the footage, so this is probably SFW).
Many of these interviews are hilarious, a few quite engaging, others rather awkward. This event took place two years after the Stonewall riots and just one year after the very first activists courageously took to the streets in New York's first true gay pride parade. So this footage is very valuable indeed, for members of the LGBT community, and for New York history lovers in general.
Wicker also has some videos relating to a gay marriage battle — from forty years ago! Watch them here.
If you want a bit more context to the videos above, check out our podcast on the history of the Stonewall Riots, recorded back in 2008, which you can download directly from here.