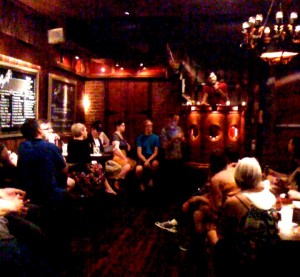 Thanks to everybody who came out on Saturday for our reading at Swift Hibernian Lounge, as part of the 4th Annual Lit Crawl. Swift makes for a incredibly atmospheric place to spin tales of New York history. Or possibly preach the gospel. Or hold an occult ritual. (Above: That's me behind the massive podium.) And it was really fantastic meeting afterwards with some of the listeners! We love coming out from behind the microphones, and I promise more live events in the near future.
And a special thank-you to Ed Hamilton, who followed up my tale on notorious mayor Fernando Wood with two terrific pieces about Dee Dee Ramone and Harry Smith (an icon of American music scholarship and, apparently, a budding Satanist with fabulous hair). Check out Ed's blog Living With Legends: Hotel Chelsea and his book on the famous place.
And thanks to the crew at Swift for the Gothic-inspired setup!