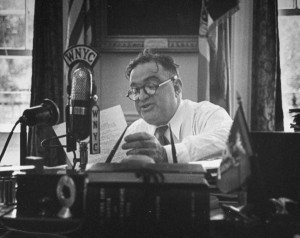 Above: Mayor LaGuardia presenting his weekly WNYC radio show from Gracie Mansion. He would carry on the tradition at his Riverdale home.
Fiorello LaGuardia, among the greatest mayors ever in New York history, died on this date, September 20, 1947, at his home in the Riverdale neighborhood of the Bronx. He arrived at the lovely four-story Tudor home directly from Gracie Mansion, where he served three consecutive mayoral terms. This mansion at 5020 Goodridge Avenue, constructed in 1914-15, was built for famed magazine illustrator Arthur I. Keller.
Retiring from politics, LaGuardia resided at the quiet mansion with his wife and two teenage children, broadcasting a weekly national radio program from his office and occasionally playing host to visitors like Robert Moses.
Less than 15 years later, the old LaGuardia home fell into some very curious ownership.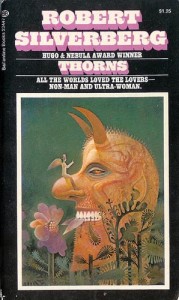 Prolific science fiction author Robert Silverberg crafted pulpy space fiction like Revolt on Alpha C and The Dawning Light right out of graduating from Columbia University in 1956. But he also spent those early years churning out stacks of cheap erotic novels for quick cash, so many and so successfully apparently that, at just age 26, he was able to purchase LaGuardia's last home in 1961 and transform it into his own inspiration point. He penned several more sci-fi fantasies from this house, including the notable (and sexually charged) Thorns.
The author also wrote (under a pen name) the manual Sophisticated Sex Techniques in Marriage while living here.
Silverberg gave a little nod to the neighborhood in his 1972 novel The Book of Skulls: "How unreal the whole immortality thing seemed to me now, with the jeweled cables of the George Washington Bridge gleaming far to the southwest, and the soaring bourgeois towers of Riverdale hemming us on to the right, and the garlicky realities of Manhattan straight ahead."