This weekend is the tenth annual
Open House New York
, with dozens of landmarks and cultural attractions throwing open their doors to the public, in all five boroughs. It's probably the best weekend of the year to experience places in New York you would have never thought accessible and a great opportunity to
finally
go visit that historical place you've always wanted to get to but didn't have the time. Now is the time.
A great many events required reservations and, of course, most of those were quickly filled. But there are a great many places that are open without reservations and free to attend. You don't actually have to spend any money outside of the purchase of a MetroCard. Check out the complete list yourself on the Open House website here.
Below are my recommendations for must-see stops for your weekend. I'll be spending my weekend hitting several Open House sites, including some of those listed below; you can follow along with my trek through the city on Twitter (@boweryboys). At one point, I'm sure to be posing with somebody in a period costume, if not actually putting one on myself.
My recommendations for the weekend:

EDWARD HOPPER'S STUDIO
Manhattan, Washington Square North
Open: Sunday 10am-3pm
Why here? It's a window, opened briefly, into one man's brilliance. Hopper lived and worked most of his career from apartments in this Greenwich Village brownstone. New York University is opening up his studio for the afternoon so you can see how a modern master created works like 'Nighthawks', pictured above. (Incidentally, I talk about Edward Hopper's studio in my Washington Square Park walking audio tour. Combine both the tour and the visit to the studio for a perfectly excellent Sunday afternoon.)
PIER 57
Manhattan, 11th Avenue and 15th Street
Open: Sat/Sun 11am – 3pm
Why here? When the original pier burned down in 1947, engineers came up with a novel way to replace it. The pier stays aloft in the Hudson River with floating caissons, inspired by the concrete breakwaters used in Normandy during World War II. For years, it served as the headquarters for the Department of Marine and Aviation. Check out the renovations and feel the magic of '50s floatation architecture. Read more about the history in this 2003 Villager article.
HAMILTON GRANGE NATIONAL MEMORIAL
Manhattan, 414 West 141st Street
Open: Sunday 6pm-8pm
Why here? Alexander Hamilton lived here, and you've perhaps not been here since they moved the whole thing and situated it in St Nicholas Park last year. They've also opened the place for Open House after the other sites have closed, so it makes a nice way to close out your weekend.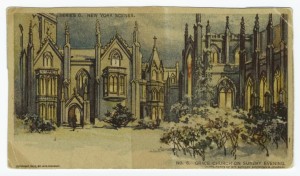 GRACE CHURCH
Manhattan, 802 Broadway
Open: Saturday 12-3:30pm, Sunday 1-3:30pm
Why here? A magnet for high society during the 19th century, Grace is one of America's most beautiful churches. And now you can do a self-guided tour through this historic place, with guides in print and accessed by your mobile phone. Fun fact: This is where P.T. Barnum staged the wedding between Tom Thumb and his lilliputian bride Lavinia. (Image above courtesy NYPL)
EDGAR ALLEN POE COTTAGE
Bronx, 2640 Grand Concourse
Open: Sat 10am-4pm, Sun 1pm-5pm
Why here? You might have visited the house where Poe wrote 'Annabelle Lee' before, but have you seen the curious Poe Park Visitor Center? I love coming to the Poe cottage because it taxes your imagination trying to envision how bucolic the land surrounding it must have been when he lived here in 1846. His child bride Virginia died in the first floor bedroom.
NEW YORK BOTANICAL GARDEN
Bronx, 2900 Southern Boulevard
Open: Sat/Sun 10am – 6pm
Why here? Sadly, one of my all-time favorite Bronx attractions, Wave Hill, is not participating in Open House, but you can get your natural-beauty fix at the New York Botanical Garden this weekend. Just walk up and mention Open House New York weekend, and they'll give you a free pass to the garden grounds. The leaves are just beginning to change after all….
GUSTAFSSON-WELLS HOUSE
West Brighton, Staten Island, 33 Saint Austin's Place
Open: Saturday 10-4pm, with guided tours at 11am, 1pm and 3pm
Why here? It's a revealing footnote to history. This charming, brown-shingled home with a fabulous porch is the smallest commission ($5,500) ever taken by the renown architectural firm McKim, Mead and White, better known for palatial classics like old Penn Station.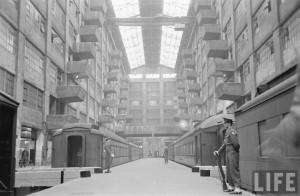 BROOKLYN ARMY TERMINAL
Sunset Park, Brooklyn, 140 58th Street
Open: Saturday 11am-5pm
Why here? It's so damn big! Originally built in 1918, this cavernous complex was the largest military supply base in the United States during World War II, a must for admirers of photogenic industrial beauty. And perhaps the strangest detail of all — it's designed by Cass Gilbert, who less than a decade earlier gave Manhattan the Woolworth Building. Over a decade after the terminal was finished, he'd move on to design the Supreme Court building in Washington. (Picture above courtesy Life Google images)
PRISON SHIP MARTYRS' MONUMENT
Fort Greene, Brooklyn, Fort Greene Park
Open: Saturday 11am-3pm
Why here? Although you can't climb to the top, just being able to walk inside of it — knowing nearby there's a crypt containing the remains of victims who perished during the Revolutionary War — is rather profound. Plus any day spent in Fort Greene Park is a good one.
MAPLE GROVE CEMETERY
Kew Gardens, Queens, 127-15 Kew Gardens Road
Open: Saturday 2pm and 6:30pm
Why here? New York cemeteries are always worth checking out during Open House. Green-Wood and Woodlawn both have events this weekend and are worthy of an afternoon stroll. But what makes the trip to this Kew Gardens burial ground from 1875 worthwhile is something called 'Spirits Alive' — people dressed as historical figures standing next to the graves of people they're representing. Morbidly intriguing! Come at 6:30pm for a twilight 'theatrical performance with a small orchestra'.
And although I've suggested it in the past, a wacky tour through the beautiful and absolutely strange Grand Lodge of Masons in Chelsea will pretty much make you want to reach for your Dan Brown novels.