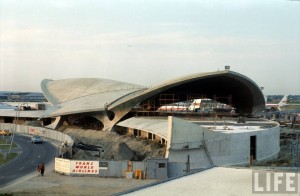 The Eero Saarinen-designed TWA Flight Center at JFK International Airport, pictured above under construction in 1961, is Thursday's Archtober Building of the Day!
Argh! There is so much to do in the month of October. Tomorrow, I'll elaborate at length on this weekend's big tenth anniversary Open House New York. But don't let that and your premature search for Halloween decorations get in the way of taking part in two other marvelous October surprises:
It's Art and Architecture Month here in New York, and the second annual Archtober festival is already underway, a month-long array of exhibits, tours and presentations on city design. As paired with a few Open House opportunities this weekend, the festival is the absolute best time of the year to learn about and marvel over New York's distinctive architectural history.
You can find a calendar of events here, but some highlights you'll want to explore:
— Several architectural boat tours around Manhattan throughout the month, hosted by AIA New York and the Center for Architecture

— Walking tours of note include the Big Onion tour of Brooklyn Heights (13th and 20th), a stroll through Hidden TriBeCa hosted by the Municipal Art Society (20th) and a special stroll past all the new and wacky structures in Washington Square, Cooper Square, Bond Street and the New Bowery, led by AIA New York (27th)
— A special previews and opening reception for the FDR Four Freedoms Park on Roosevelt Island, which officially opens on October 24th.
Most of the above need reservations. You can find more information at the Archtober website.
They also honor one structure a day as the Archtober Building Of The Day, offering tours of some of those particular buildings.
_____________________
And next week is New York Archives Week, which is also featuring some pretty astounding and unusual exhibitions, many free to the public. This blog would be nothing without the availability of public archives, so I'm definitely running to some of these events. I mean, who doesn't love themselves some good ephemera? The full calendar is here, but ones of note include: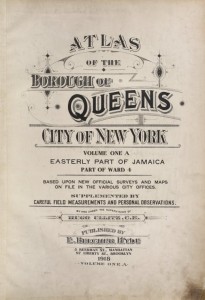 — Archives in Action: Use of Archives for Girl Scouts of the USA 100th Anniversary, with a tour of their Fifth Avenue collection
— A look inside the Curatorial Center at the Museum of the City of New York, with highlights from their manuscript and ephemera collections
— Tour of the beautiful Central Synagogue Sanctuary on 55th Street and a lecture on the architectural drawings of Henry Fernbach, a leading architect of Jewish civic and religious buildings in New York
But I think one of my favorites has to be the October 10th presentation by the Greater Astoria Historical Society, a look at a half-century of maps from the E. Belcher-Hyde Map Company which produced maps of the New York area for over 100 years. Check here to make reservations.
At right: A 1918 atlas of Queens, produced by the E. Belcher-Hyde Map Company
Top image courtesy Life Google Images. Bottom image courtesy New York Public Library