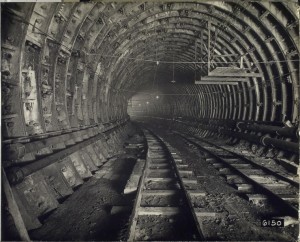 Contract No. 3. South tunnel, New York. taken December 1923 [NYPL]


The Holland Tunnel, New York's first automobile tunnel, linking downtown Manhattan with Jersey City, New Jersey, turns 85 years old today after a hard month for the city's underground passages. The tunnel was closed for several days after Hurricane Sandy, reopening on November 7.
The tunnel is named after its engineer Clifford Milburn Holland who died before its completion, from heart failure brought on during a routine tonsillectomy procedure in Michigan. He was 41 years old.
He died in 1924, just two days before the two approaching tunnels on the New York and New Jersey sides were to have met. In 1927, on the day of its opening, the New York Times gave him one of most passionate eulogies –'In Holland's Tunnel Is His Monument' — in the newspaper's history.
Holland was replaced by Milton H. Freeman … who then also died, of pneumonia a few months later. Ole Singstad, a colleague of Holland's, was finally brought in to complete the work, devising its innovative ventilation system. Singstad eventually developed most of Manhattan's tunnels, including the Lincoln Tunnel.
When the Holland was completed, it was the longest underwater tunnel of its day. The first vehicle through the tunnel 85 years ago? A delivery truck for Bloomingdale's department store.
The Holland Tunnel was closed on October 29 in advance of the superstorm's arrival; as you can see, it was a wise decision: