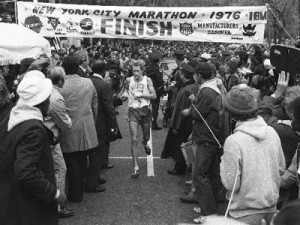 UPDATE: As of this Friday afternoon, the New York City Marathon has been cancelled
The ING New York City Marathon will still go on as scheduled this Sunday, November 4. The marathon served as a symbol of New York's perseverance and strength before, most notably a few weeks following September 11, 2001. Although some have questioned the resources that might be taken from damaged areas to assure the race's safety and security, I think once we get to Sunday, seeing this massive operation in play — attracting runners from around the world — will mostly give New Yorkers a bit of a needed uplift.
There quite about of controversy about the marathon going forward of course. Here's a good wrap-up of some of those calling for the event's cancellation, including from the Staten Island borough president James Molinaro.
There have been modifications to many pre-events, including cancellation of the the opening ceremony, and a more generous policy on last-minute runner cancellations. (This race won't be the first priority to those most effected by the damage of Hurricane Sandy). Please visit the race page for more information.
And check out the page for volunteer opportunities during the marathon. Not only is it an incredible way to see the race, an abundance of volunteers will ensure extra safety for the runners.
For the rest of us, the race is also fun to watch on the sidelines. Here's the current course map of the New York City Marathon, although it's possible there may be slight alteration due to crew work or possible obstructions. You can also peruse this view of entertainment that will be found along the route.
On my way home, walking through darkened lower Manhattan last night, I gave another listen to our podcast episode (Episode #68) on the history of the New York City Marathon, featuring a guest appearance by our official Bowery Girl Tanya Bielski-Braham. (Although since she's moved to Pittsburgh, she hasn't been able to record any new shows recently.) I think it's a rather fascinating story, and Tanya — a two-time marathon runner — gives her experiences running the course.
You can download the show from iTunes, straight from our satellite website, or listen to it by just clicking here.
Photo above courtesy the Associated Press