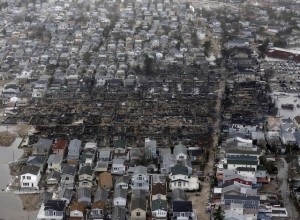 Above: Aftermath of a massive blaze in Breezy Point on the Rockaway Peninsula (Picture courtesy AP)
PODCAST A brief encapsulation of what's happening in the city as of Friday afternoon, November 2, reviewing some of the events associated with Hurricane Sandy, the catastrophic storm which hit the Northeast this week. Featuring some of the historical context for the storm. This is just a summary of what's occurred as of now, so much of this information is sure to have changed after recording date. Please check your local news for up-to-date information.
To listen this episode, simply download it for FREE from iTunes or other podcasting services, subscribe to our RSS feed or get it straight from our satellite site.

You can also listen to the show on Stitcher streaming radio and Player FM from your mobile devices.

Or listen to straight from here:
The Bowery Boys: Hurricane Sandy Update
Throughout the weekend I'll be compiling a list of relief organizations that you can contribute to, helping out those affected by Hurricane Sandy. If you know of any more — particularly those tailored to particular areas — please leave them in the comments section or email me, and I will include them on the list today and this weekend.
Tunnel To Towers Foundation [website]
Hope For New York [website]
Jewish Federation of North America [website]
New York Red Cross [website]
Support Breezy Point [website]
Rockaway Relief [website]
Belford NJ/ Jersey Shore Hurricane Relief Fund [website]
Salvation Army [website]
Visit NYC Service for information about volunteering in the area