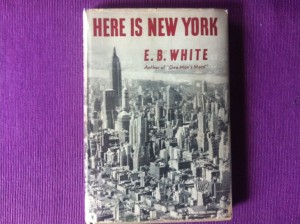 "New York is the concentrate of art and commerce and sport and religion and entertainment and finance, bringing to a single compact arena the gladiator, the evangelist, the promoter, the actor, the trader and the merchant." — E. B. White
Book Advice: Out-of-state bookstores are sometimes the best place to find obscure books about New York City. Not sure why that is exactly; perhaps the demand isn't as great, so real treasures aren't so immediately scooped up by book collectors.
A full half of the New York City history books on my shelf at home are those that I bought in other states, weird out-of-print or otherwise one-of-a-kind, the kind of books you have to own. Over the weekend, I found the spectacular 1949 copy of 'Here Is New York' by E.B. White pictured above for three dollars at the Dickson Street Bookshop in Fayetteville, Arkansas, along with a few other great finds. They had several large shelves devoted to New York City history books.
I'm not sure if this old bookstore was open in 1975 when Bill Clinton and Hillary Rodham were teaching at the university up the street, but one can imagine a young Hill with those big ole eyeglasses wandering through the towering stacks here.
So yes, my advice, always look for books about New York City in out-of-state book stores. You'll always find a stray treasure.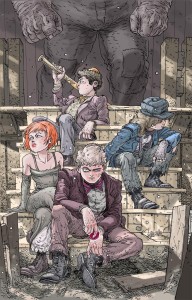 Classics Illustrated: Of course Tom and I would make excellent subjects for a comic book some day. But until that happens, there's another comic based on the Bowery Boys — the original ones, the ruffians of the old Sixth Ward — that deserves your attention. Cory Levine, Ian Bertram, and Rodrigo Avilés are illustrating the adventures of lower Manhattan life in 1853, uploading three graphic pages a week. Sure you can get it all when it eventually becomes a graphic novel, but don't you often pine for a good serialized comic? Here's your chance: [Bowery Boys comic]
The Big Picture: Baz Luhrmann's 'The Great Gatsby' created 1920s New York City out of thin air. The skyline wasn't completely fabricated out of imagination, however, as Untapped Cities points out. [Untapped Cities]
Last Stop: You've probably walked by the Hotel Carter in Times Square dozens of times without realizing the secret in its basement. [Scouting New York]