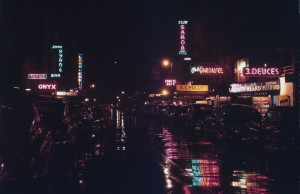 A sizzling 52nd Street in July 1948 (courtesy LOC)

BOWERY BOYS BOOK OF THE MONTH Each month I'll pick a book — either brand new or old, fiction or non-fiction — that offers an intriguing take on New York City history, something that uses history in a way that's uniquely unconventional or exposes a previously unseen corner of our city's complicated past. Then over the next month, I'll run an article or two about some of historical themes that are brought up in the selection.
New York Neon
by Thomas E. Rinaldi
W.W. Norton
Neon has been a most attractive tool for pop American graffiti for well over one hundred years, glowing tubes of foggy color alighting the simple and the sublime, from jagged old signs along Route 66 roadsides to those lining the most flamboyant casinos of Las Vegas. In Los Angeles, stand-alone neon signs along Sunset Strip typify the glamour of old Hollywood, the buzz of Mildred Pierce's restaurant and the cocktails at the Brown Derby.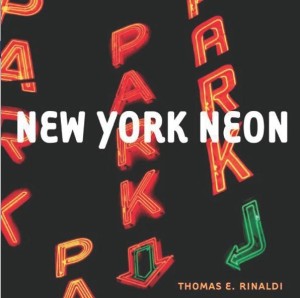 New York City also has its share of iconic neon signs — some of the greatest, in fact — but amid the blinding lights of an ever-changing modern metropolis, they frequently recede into the background. But no longer. In Thomas Rinaldi's excellent 'New York Neon', these representatives of an elusive, nostalgic past finally receive a warranted inspection. And I guarantee you that after reading this book, you'll see neon popping up all around you on the city streets. It's always been here.
No city has a more complicated relationship with the neon glow than New York City. Once the material of great advertisements and tony nightclubs, neon became associated with the seedier parts of town by the 1940s and 50s. Their singular appeal — handcrafted works, often one-of-a-kind — initially threatened their existence in a city of heightened sensation. Fortunately, detective novels, film noir and the embrace of nostalgia saved the idea of neon from total oblivion; more than any other visual queue, warm neon evokes a sense of a faded city, its melancholy and mystery.
Rinaldi gives a one-stop primer on all things neon, from its early history and development to its present creation by local craftsmen. He identifies possible moments in time when neon became 'cool' again and speculates on why it may never completely disappear. He writes: "For its sheer charisma, neon will likely live on as a specialty item."
Indeed, New York's romance with neon signage mostly veers from the mainstream today. The neon spectaculars of Times Square have given way to explosive LED high-definition displays, washing thousands of color gradients over the eyes of stunned tourists. As Rinaldi illustrates, the survival of neon has depended on small, private businesses; it glows above the doorways of New York's most famous delis, pharmacies and bars.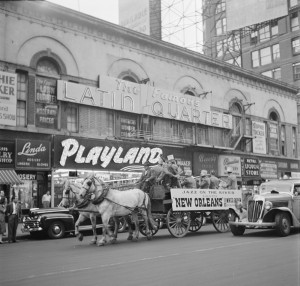 Above: The nexus of neon was probably at Broadway and 47th Street in its heyday. Here, the 1947 sign of the Latin Quarter nightclub joins the party. (LOC)
And here's where the book comes in most handy, going through every borough to locate some of the finest examples of neon currently existing in the city. The author even finds the origin stories to a few of these treasures, from the pastel silliness of the Papaya King to the haunting glow of a neon crucifix on East 2nd Street.
The great, old taverns of New York are often defined by their neon. Sometimes whole neighborhoods are too, as in the case of Long Island City and its 1936 Pepsi-Cola sign. But collect it all together into one resource like 'New York Neon', and you'll come to realize that neon has had a lasting effect on the entire city. Your dreams of New York are likely illuminated in neon.
Times Square will always glow with the latest in lighting technologies. Subway signs and chain stores signage may render everything into a dulling uniformity. But nothing will speak for New York more than the signs of Katz's Deli, or the Chelsea Hotel, or the Odeon Restaurant, or Loew's Paradise.
Later this week: An interview with the author Thomas Rinaldi who also maintains a great blog on the subject.
PAST BOWERY BOYS FEATURED BOOKS: