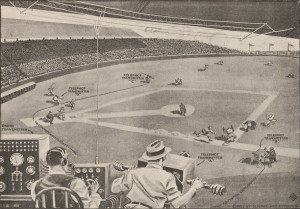 An illustration from Science & Invention, one of Hugo Gernsback's many technology journals, demonstrating the possibilities of his 'telephot' system. (Courtesy The Verge)
PODCAST It's the beginning of The Bowery Boys Summer TV Mini-Series, three podcasts devoted to New York City's illustrious history with broadcast television — from Sarnoff to Seinfeld!
In our first show, we go back to the start of the invention of the television and the city's role in both the creation of the complicated technology and the early formation of programming.
We begin with the Electro Importing Co. and the imagination of one of the greatest names in science fiction. Then head into scientific realities — the failures of mechanical televisions and the brutal patent wars between RCA's David Sarnoff and one of the great inventors of television, Philo Farnsworth.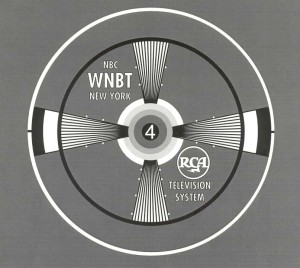 In victory, Sarnoff claimed the mantel of 'father of television' at the 1939 World's Fair in Flushing Meadows-Corona Park, Queens. It's but one of many great New York City's beloved landmarks with ties to television's early history, from the heights of the Empire State Building to even a floor at Wanamaker's Department Store.
Video telephones in the West Village. Spectacularly strange television displays at Madison Square Garden. News broadcasts in Grand Central Terminal. And we even go drinking with a few stars at McSorley's Old Ale House!
ALSO: Why is Greg singing Cole Porter?
To get this week's episode, simply download it for free from your favorite podcast player

Or listen to straight from here:
The Bowery Boys: New York City and the Birth of Television 1909-48
—–
A couple clarifications: Hugo Gernsback's experimental station WRNY at the Hotel Roosevelt operated radio frequencies in 1925 and tried out television broadcasts in August 1928. I use both dates inter-changeably at one point.
RCA had 13 sets from 4 different models of televisions at their World's Fair pavilion. I think Tom said 12 sets. Maybe one of them was that plastic see-thru version (see below)?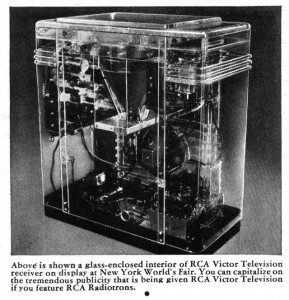 David Sarnoff speaking at the 1939 World's Fair, presenting the 'debut' of television. Although, of course, television had been around in some form or another in New York for over ten years by that time.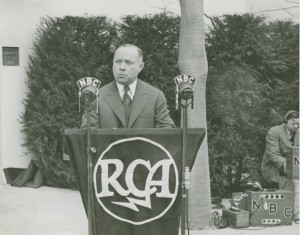 A diagram from 1928 outlining the mechanical television process, as described in the Hugh Gernsback-owned journal Radio News: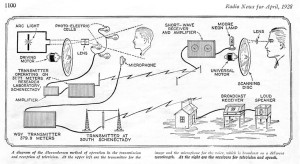 The first televised Major League baseball was broadcast by W2XBS on August 26, 1939, a game at Ebbets Field between the Brooklyn Dodgers and the Cincinnati Reds. It would also be the first television broadcast of the Dodgers losing a game! (source)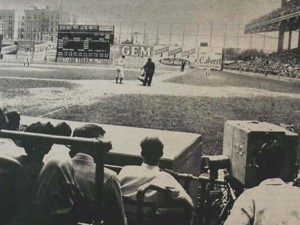 From the Dumont studios in the Wanamaker's Department Store, 1946 (courtesy Eyes of a Generation):