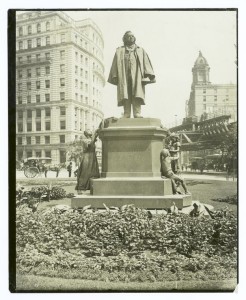 If anybody could be called a patron saint of Brooklyn, one of the nominees would be Henry Ward Beecher, born 200 years ago today. In 1847, he arrived in Brooklyn at the behest of a new congregation and, within a few years, his pulpit there at Plymouth Church would draw thousands. Perhaps Beecher would also be called Brooklyn's second great tourist attraction, after Green-Wood Cemetery (which opened nine years earlier and where Beecher is buried today).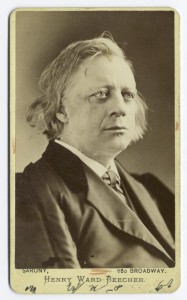 Beecher is known for his famous sister Harriet Beecher Stowe, his relatively progressive views on abolition, and his famous friendships with people like Abraham Lincoln, Elizabeth Cady Stanton, and Henry David Thoreau. But his reputation was besmirched in 1870 in a shocking adultery scandal involving the wife of newspaper editor Theodore Tilton and even free love advocate and scandal magnet Victoria Woodhull!
Celebrate Beecher's two-hundredth birthday with a visit to is monument facing into the plaza at Brooklyn Borough Hall and short walk to Plymouth Church at 75 Hicks Street. And listen to my podcast recorded back in 2008! You can find it in the Bowery Boys Archives on iTunes (here), download it at this link or play it here below, via SoundCloud!
At top: the Beecher statue created by John Quincy Adams Ward, as it looked in the 1890s with horsecars and elevated railroads in the background. At left: Beecher's carte de visite