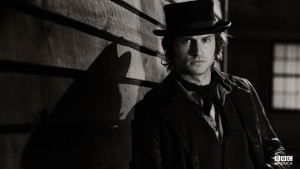 WARNING The article contains a couple light spoilers about the current season 'Mad Men' on AMC and a few on last season's 'Copper' on BBC America. Â 
While 1968 comes to a close on Sunday night with the season finale of 'Mad Men', another version of New York history returns on another channel.
'Copper', starting season two on BBC America, will open in the early months of 1865, in the wake of a failed attack by Confederates that past November. Â Just as in this season's 'Mad Men', set in a year of two assassinations, you can only begin watching a show set in early 1865 with the anticipated dread of one future tragedy.
If it makes you feel better, keep it all in the world of pop culture and imagine the events of Steven Spielberg's 'Lincoln' occurring simultaneously to those on 'Copper'. Â Â Abraham Lincoln, fresh into his second term, was only just employing often cynical efforts to get the Fourteenth Amendment passed as the war between the states wound to its eventual completion.
Lincoln was still a divisive figure. Â In 1864, New York City, a Democratic stranglehold, had voted to replace him with George B. McClellan. Â Indeed, the city has such affection for McClellan Sr. that, fifty years later, they installed his son George B. McClellan Jr. as mayor. Â For many in New York, Lincoln represented a strike against common prosperity, flagrantly destroying America's future — both literally, on the battlefields, and figuratively, with the freeing of slaves, weakening Southern commerce (and New York's Southern interests).
Below: A stereoscope photograph of Five Points in 1865 (NYPL)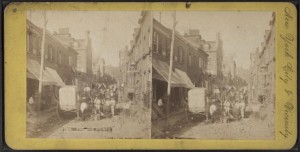 'Copper' follows the adventures of streetwise police officer Kevin Corcoran through the streets of Five Points, interacting with both the disreputable characters of that neighborhood (including one sassy brothel owner) and few genteel sorts from Fifth Avenue.  Between thwarting criminals and Confederate plots, Corky also found his amnesiac wife in an asylum.  He also seems to have developed a morphine problem.
What's might we see in Season Two in regards to New York? 1865 was the year the city got serious about cleaning itself up physically — construction of city sewers was commissioned in this year — even as its government infrastructure was getting ever more corrupt (as in, Tweed was now the 'Boss').
The new episode is set on the date February 5, 1865. Â The new New York Stock Exchange opened a few days before that date, reinforcing New York's real center of power. The consequences of a long war were still ever-present; that February 4th, on Governor's Island, a Union deserter was even executed.. And there's still loose ends from that ugly Confederate 'Greek fire' business, namely the captive Robert Cobb Kennedy, held in old Fort Lafayette.
But the most tumultuous event of the year came with Lincoln's assassination, throwing the entire country — and especially the city — into chaos.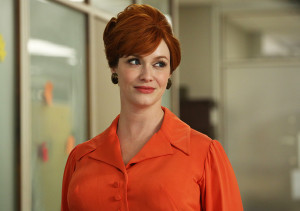 Two political assassinations played central roles in this season of 'Mad Men', and some professional ones too.
Season Six was a full-on assault on the early '60s complacency of the show's initial premise. Â In prior seasons, New York City was almost solely depicted via bars and restaurants. Â In this season, we got grimy squatters apartments, rat infested walk-ups and allusions to race riots in far-off neighborhoods.
The sky-high haven of  Don and Megan Draper was invaded by imposters, glamorous lesbians and even the encroaching sounds of a dangerous city.  This was a season of menace, the usual bedroom/boardroom operatic antics, scored with the violent tones of the Vietnam War and a cynical presidential campaign forever in the background.
Maybe that's why some of Don's storyline this year felt so labored. Why should we care so much about his perpetual indiscretions when the world around him has shifted? How can we keep focused on him? Â Characters like Joan Holloway (above, fetching in orange) used the changing times to her seeming advantage. Â Pete Campbell, once again, tripped over himself. Â Peggy was forever caught between the old and the new, from her lifestyle and career to even her romantic interests.
And then we got an enigmatic new character, one who I fully expect to see hanging out at Stonewall in the summer of 1969, his Greek coffee cups replaced with watered-down cocktails. Â  I mean, will the creators of 'Mad Men' be able to resist it?
As always, you can follow along with me on Twitter at @Boweryboys during the live airing of New York City history-based shows like AMC's 'Mad Men' and BBC America's 'Copper' (along with 'Boardwalk Empire', later this year). Â As the season finale of 'Mad Men' and the season premiere of 'Copper' are on at the same time this Sunday (10pm EST), I'll be Tweeting along with 'Mad Men' first, then immediately following with 'Copper'.