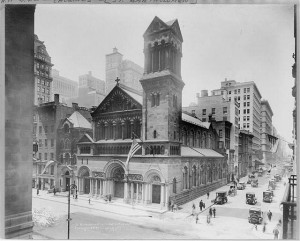 The former St. Bartholomew's on Madison Avenue and 44th Street, burgled by one Mrs. Randolph Fitzhugh. [LOC]

NOTE: I revised this article this afternoon which some additional information just discovered, making this story ever stranger! New information includes Mrs. Fitzhugh's real name, details about her baby, her length of stay in the Tombs, and information on another arrest at St. Patrick's.
The papers called her 'woman of mystery' and a 'woman enigma'. Later on, she would garner a new nickname — the Kaleidoscope woman.
Rarely had a female criminal so confused New York law enforcement as the unusual Southern woman arrested in early 1913 for stealing from society ladies prominent New York churches.

She called herself Mrs. Randolph Fitzhugh, a Southern woman with a demeanor as such that she could spirit into any number of prominent churches and snatch up a host of items, including a diamond bracelet at the Church of the Transfiguration and a $500 gold mesh bag at St. Bartholomew's (at its previous building on Madison and East 44th Street, see above).
The revelation of this crimes was most strange. The owner of the bag received a letter from the Hotel Flanders (6th Ave/W.46th Street) claiming a woman carrying that bag was staying there. Fitzhugh was staying at the hotel with an infant; later witnesses claimed the hotel was holding the baby for an "unpaid rent bill."
To those in the hotel, Mrs. Fitzhugh claimed she was only "renting the child" due to some troubles in Washington DC. The baby was taken to an acquaintance in Brooklyn, and Mrs. Fitzhugh arrested.
The story with Mrs. Fitzhugh (her real name was Catherine Fennell or Northrup) wasn't her crime but her reaction to prosecutions. She plead guilty to avoid a sentence at Auburn Correctional Facility. But she didn't stop with that.
A reporter from the New York Evening World interviewed the convicted from her cell at the Tombs where she had been a prisoner for almost seven months.
She told a remarkable tale of a runaway betrothed to the previously-named Randolph Fitzhugh. It was apparently a controversial marriage, for when he died, her family rejected her. She was then arrested for stealing from a department store. "All I had done is charge some goods to an intimate friend of mine who had an account at the store . I had often done it before and she gave me carte blanche."
She then claimed to have married and had a child, although she "never bothered to take good care of our marriage certificate" and was later sued by the man. Most likely the child was hers, but the 'renting' business is still a mystery. She used the child in later testimony to claim that she took the solace of random churches because she believed somebody was trying to kidnap her baby.
She then exploded with emotion at the Evening World reporter. "I tell you I am being hounded to prison by men–men–men. It is 'The Butterfly on the Wheel' all over again! I cannot get justice from men." The phrase 'butterfly on the wheel' is from Alexander Pope's 'Epistle to Dr. Arbutnot', meaning a concerted effort in appearance to break to the will of something insignificant.
Whatever is going on with Mrs. Fitzhugh — bad luck, desperation, mental illness — it's easy to sympathize with her from our vantage a century later. She feared the prison system, knowing it would change her forever, knowing she might never break from it. She was instead put to a lighter sentence at Bedford Hills in Westchester County. But she issued a grave warning.
"I am not a common woman. I understand that almost every inmate of that Bedford place is such a woman. To be thrown with them may embitter me to such an extent that I shall ever after revenge myself on society and turn a really clever, unscrupulous thief. I may and very likely shall become a professional thief."
Indeed, she lived up to her word. After she was released, she returned to a life of crime. She was arrested once again in February 1915 in front of St. Patrick's Cathedral.
And later that year, from her perch at the Holland House at 5th Avenue and 30th Street, Mrs. Fitzhugh again plundered neighborhood churches, stealing from the Catholic parish St. Leo's Church on 28th Street.
To avoid suspicion — although this seems to have failed — Mrs. Fitzhugh changed costumes "six to eight times a day" and was known to hotel staff as the Kaleidoscope woman due to her ever-different garments.
Somehow, Mrs. Fitzhugh had befriended a film actress and was living in her flat at the Holland House. Most likely, it was the clothing of this unnamed actress that Mrs. Fitzhugh was wearing. "Her bills, according to the management of the hotel, had been always promptly paid." [source]
From there I'm able to find anymore information about Mrs. Fitzhugh, the Kaleidoscope lady. She disappears from the criminal record under that name. But I'll continue to look, because she strangely fascinates me.