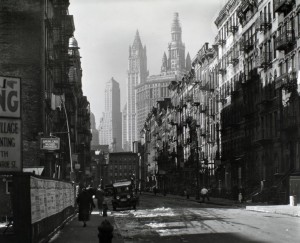 Manhattan's Henry Street looking south, 1935, photo by Berenice Abbott (NYPL)
Since Manhattan and Brooklyn developed as two separate cities before they were intertwined within consolidated New York City in 1898, it's not surprising to see similar street names in both boroughs, deriving from different origins. But the Henrys being honored in these street names are quite different:
Henry Street (Manhattan) is named for Henry Rutgers, the Revolutionary War hero and the financial savior of Queen's College in New Jersey, who thanked him by renaming themselves Rutgers College (later University). You'll find a Rutgers Street in the Lower East Side too; in fact, it intersects with Henry Street. I wonder if he had a middle name?
This of course the Henry Street of Henry Street Settlement, the pivotal health and social services provider which opened on this street in 1895.
Henry Street (Brooklyn), however, is named for Dr. Thomas W. Henry, a prominent physician in the 1820s who treated the early aristocracy of Brooklyn Heights.  
Although Henry was president of the Medical Society of the County of Kings from 1831-32, it doesn't seem like he was a name for the annals of medical history. The reason he got his own street has to do with one of the families he treated — the Middaghs.
Lady Middagh, as legend has it, wanted more colorful names for her neighborhood and led a movement to rename certain streets for pieces of fruit — which is why Brooklyn Heights has a Cranberry Street, an Orange Street and a Pineapple Street.
Despite her aversion to pompous street names, one street is actually named for her own family (Middagh Street) and, of course, one for her beloved doctor.
North Henry Street (Brooklyn) was just regular Henry Street in the independent town of Greenpoint.  But that changed in 1855, when Greenpoint — and its neighbors Williamsburg(h) and Bushwick — were annexed into the city of Brooklyn.  
Dozens of old street names were changed when the annexation took place. Here's a lengthy list of other altered names.  Since the southern Henry Street was the 'original' Henry Street of Brooklyn, this one got a North stuck to it.
It's not clear to me which Henry this is named after, but it's possible that it took its name from Revolutionary War hero Patrick Henry.  
If so, it would have shared this trait with one of Brooklyn's greatest politicians, Patrick Henry McCarren, who represented the Williamsburg(h) and Greenpoint areas during the years of the Gilded Age.
Interestingly, none of these Brooklyn Henry Streets are named after Henry Ward Beecher, although his pulpit at Plymouth Church sits near the 'original' Henry Street.
Henry Place (Staten Island) is in the neighborhood of South Beach. I'm not sure of the origin of the name, but one possibility could be a farmer named Henry Bedell, whose mill gives its name to Mill Creek, or even Henry Hudson, who landed here in 1609 before heading over to Mannahatta.
But according to this census report from 1930, Staten Island had a great many more streets named for Henry! As this borough was a collection of small villages — and still feels that way in some areas there today — there were various Henrys that had to be eliminated for the ease of mail delivery and mapping.
If you have any information on the more unknown Henry Streets, any speculation, or if I missed any Henry Streets, please leave a comment below or email me at greg@boweryboyspodcast.com.