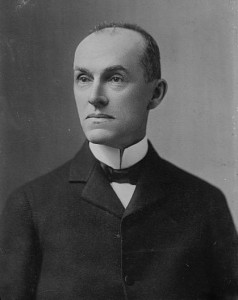 Patrick Henry McCarren — best known today for leaving his last name to a park and a swimming pool — was a complicated figure, so it makes sense he should be considered a sort of godfather to a rather complicated neighborhood like Williamsburg.
McCarren became the voice of Greenpoint and Williamsburg at a pivotal time of growth for Brooklyn, during the years of consolidation with New York. He worked his way up and, once there, bought himself favor like a good old-fashioned machine Democrat would — one hand outstretched to the working class, the other in the pocket of big industry.
Born in East Cambridge, Massachusetts of Irish parents in 1847, McCarren headed to Brooklyn and worked first in Williamsburg's thriving sugar refineries, then as a cooper, and finally as a lawyer, the springboard for his real ambitions in local politics. Civic service was his singular objective, entering Kings County's democratic machine at age 21. In 1881, he was elected a state senator, a vantage he would use in accumulating great influence.
"Far from being offended at being called a politician," according to a glowing eulogy. "[McCarrin] took pains to emphasize his right to the name and became a power….because of his singleness of aim."
During 18 years as a state senator, McCarrin rallied for the fortunes of Brooklyn and, in particular, for the East River Bridge to link New York with the factories of Greenpoint and Williamsburg. (And, oh yes, blossoming Brooklyn's population with the fleeing residents of the Lower East Side.)
There is much truth in the statement, "The bridges, the parks, the improved means of transit, the better paved and lighted streets…by which the Brooklyn of to-day is distinguished….are due more to the legislative efficiency of Senator McCarren than to the influence of any other individual."
Of course, he did so frequently on behalf of the Eastern District's big industries, becoming a political marionette for both oil and sugar. He was publicly charged with actually being on the payroll of Rockefeller's Standard Oil Company. According to one account, "No denial of the charge was ever made by the Senator." One paper even referred to him as "the Standard Oil serpent of Brooklyn politics."
Remarkably, with such unabashed connections to corruption, you'd think he'd be a welcome ally to New York's Tammany Hall. Far from it; as a powerful Brooklyn Democrat, he remained unbought by Tammany, on the outskirts of their most important political objectives. By 1908, the year he thwarted Tammany's plans to put William Randolph Hearst in the governor's seat, he was possibly the most powerful man in Brooklyn.
He died the next year, 1909, hated and mocked across the water but beloved by most in Brooklyn, even some of his most fractious enemies. His funeral was purported the biggest in the borough since Henry Ward Beecher's.
Greenpoint Park, which had opened in 1906, was quickly renamed in his honor. Had he been around, Patrick might have blanched thirty years later when another steadfast politician, Robert Moses, decided to plunk down the biggest of eleven WPA-funded municipal swimming pools here in 1936. Today, the pool is a popular but surprising venue for concerts and is currently being renovated.
Below: McCarren Pool in its heyday, date unknown (Courtesy McCarren Park)