Our new podcast which was planned for this week had to be delayed for one week. It'll be ready to listen to next Friday. In the meantime….
A special illustrated version of the podcast on the Murder of Mary Rogers (Episode #66) is now available on our NYC History Archive feed.  Chapter headings with images have been embedded in this show, so if your listening device is compatible, just hit play and a variety of pictures should pop up.  The audio is superior than the original as well. And who doesn't want to revisit a rousing summertime mystery?
For this and our older episodes (Episodes #3-#50, subscribe to The Bowery Boys: NYC History Archive feed, on iTunes, directly from our host page, or directly via our RSS feed.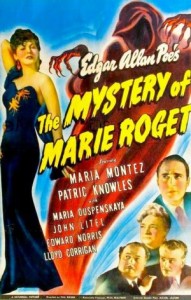 Here's some unusual facts on the Mary Rogers murder I dug up this week while preparing this episode:
1. The oft-used image of Mary Rogers (pictured at top) is from Joseph Holt Ingraham's 'The Beautiful Cigar Girl', an early morality novel based upon the crime.  Ingraham cranked out novels in his lifetime, over a hundred.  In 1860, after penning a series of Biblical novels, Ingraham killed himself in his church in Mississippi.
2. Edgar Allen Poe's take on the Mary Rogers murder became his short tale 'The Mystery of Marie Roget'.  Poe's story was loosely adapted for the screen in 1942 (see movie poster above), starring Maria Montez as a young actress named Marie Roget. Something tells me they've gone way off script; one of the tag lines was 'Beautiful beast! Maddening … with her soft caress! Murdering .. with steel-clawed terror"
3. Mary Rogers is more than just a famous murder victim. Mary Rogers is also the name of the last woman executed for murder in Vermont.  She was hanged in 1902 for murdering her husband.  She had tricked him into performing a rope trick he could not free himself from. She then chloroformed him and drowned him in the river.
4. The notorious abortionist Madame Restell is often implicated in the murder of Mary Rogers, although no real connection between the two was ever made.  Restell's lavish Fifth Avenue mansion was located on the spot where one of New York's finest restaurants, La Grenouille, sits today.
5. In 1909, the New York Times announced that they had unearthed a new clue, linking Roger's murder to that of an unknown "tall, swarthy man," found dead wearing a "white shirt, silk vest, dark pantaloons, morocco shoes and worsted hose."  This, too, seems like speculation, however the article (an intriguing read) comes with this startling illustration: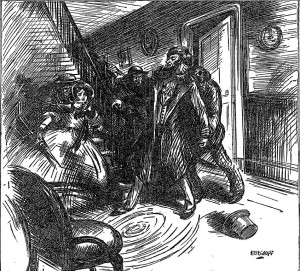 6. In 2001, somebody did a comic book about the murder of Mary Rogers. Check it out here.