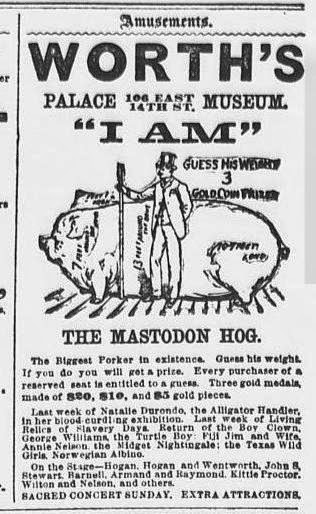 Worth's Museum of Living Curiosities, one of New York's most popular dime museums, paired cheap 'curios' with vaudeville performances on the main stage. On December 29th, 1889, the star of the show was a massive hog named I-Am. "The Biggest Porker in existence. Guess his weight. If you do you will get a prize. Every purchases of a reserved seat is entitled to a guess. Three gold medals, made of $20, $10 and $5 gold pieces".
I can find no information on what the correct weight of this monster was. However, this large animal capped a year of peculiarly sized beasts at Worth's. The year began with what was proclaimed as Baby Bunting, "the smallest horse living."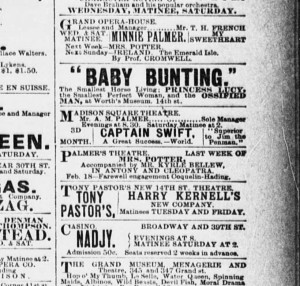 Worth's Museum was located at
106-108 East 14th Street,
across from the Academy of Music. The buildings were demolished in the 1920s — near the same time that the Academy was itself demolished — and the lavish
Palladium
concert hall was put in its place. The Palladium became a nightclub in the 1990s. It too was later bulldozed and replaced with a
New York University
residence hall.