The TNT drama Public Morals, set in the gritty corners of New York City in 1967, airs the sixth of ten episodes today.  It appears on the television landscape with fantastic credentials and a smooth cinematic hue.  In my mind, I'm imagining a television landscape where all television shows co-exist, and Detective Muldoon, played by Ed Burns (whose directing and writing every episode) goes in to crack down a bar and finds Don Draper drowning his sorrows in the corner.
New York's public morals department — a fancy name for the vice squad — specifically focused on "victimless crimes," and Muldoon, conflicted but resigned to his responsibilities, recognizes the futility. The crack down's on gambling, prostitution, gay bars and "after hour joints," Muldoon says, neatly breaking down the landscape we will expect to see in following weeks.
He's one of a long line of Irish detectives inhabiting Hell's Kitchen in a particularly rough period. Public Morals joins the film Sleepers and the TV show Daredevil in helping turn this neighborhood into a cinematic criminal wonderland,   (A history spoiler alert — the show begins in 1967.  The rise of the Westies gang occurs around this time, and their battles with the Italian mob explode in the 1970s.)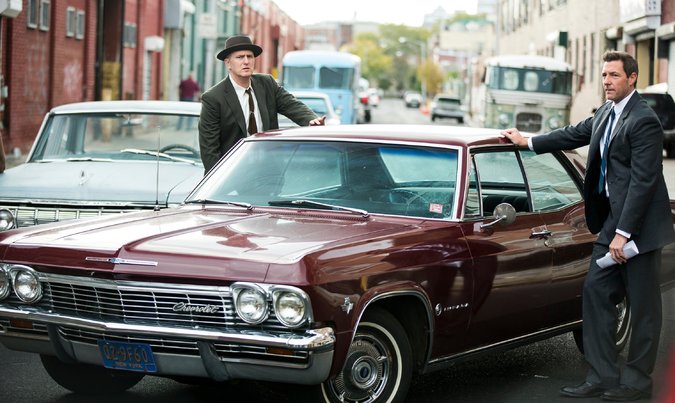 The cast which unfurls before you is like a collection of tough-guy action figures — Brian Dennehy, Neal McDonough, Ruben Santiago Hudson, Kevin Corrigan, Timothy Hutton. And it's so great to see Michael Rapaport in a delicate role of a cop trying to protect a wayward school teacher veering into a life of prostitution. That may sound like a conflict of interest for a public morals officer; in Public Morals, even the true-hearted are eventually bribable.
The conceit is intriguing, ripe with potential storylines. (The story seems poised to enter the mob-controlled West Village gay bar scene at any moment.)  The show seems to be taking some time finding the right rhythm — I'm ready for a faster pace — but last week's episode featured a very Good Fellas-type assassination in a way that seemed to turn the show down a promising and dark path.
Hey, maybe I'm missing Boardwalk Empire and Mad Men, but I'm giving Public Morals a chance to arrest me. Â I will say this without hesitation — the show has the best looking cars I've ever seen on television.
I'll be following along on Twitter for the rest of the season, so follow me at @BOWERYBOYS. Â And I'm planning on doing the same for the season premiere of another New York City history-based television show The Knick.