One of the most tantalizing artifacts in the collection of the Brooklyn Historical Society is Mrs. Lefferts Book, the hand-written recipe book of Maria Lott Lefferts and her daughter Gertrude Lefferts Vanderbilt, compiled sometime in 1830. Judging by those names, you can get that Mrs. Lefferts was from a prominent Brooklyn family.  At one point she lived in the house contained in today's Prospect Park called the Lefferts Historic House as did her daughter Gertrude who would grow up to become a prominent Brooklyn historian.
Below — A page from Mrs Lefferts' book of recipes: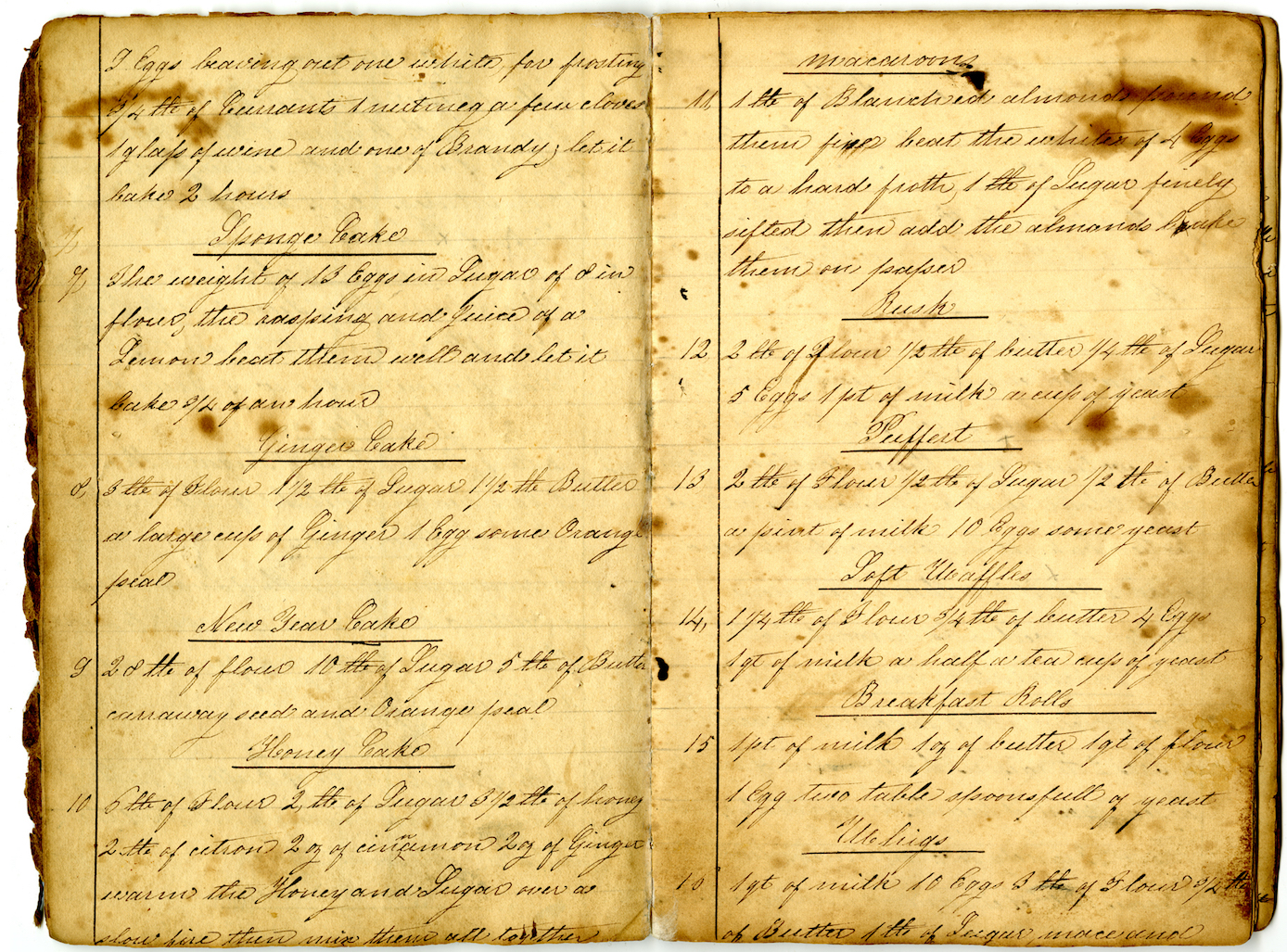 The book is filled with traditional Dutch dishes passed down in the Lefferts family through the decades. Oh to imagine a Thanksgiving table of these meals with their rich ingredients and vivid tastes.
Well, imagine no longer! Cancel your dinner plans on Tuesday, November 10, because the BHS will once again present their annual fall fund-raiser Brooklyn Bounty, an evening of food, cocktails and history with special inspiration from Mrs. Lefferts herself.
From the Brooklyn Historical Society: "This year's Brooklyn Bounty features curated tastings of a nineteenth century Dutch-American meal with a modern twist. Recipes will be inspired by one of BHS's prized artifacts,  Mrs. Lefferts' Book.  Our festive special evening will include a live auction, music and more fun surprises! Cocktail attire encouraged."
All proceeds benefit will Brooklyn Historical Society's popular  public programs, education programs and our collections in the  Othmer Library and  museum.

Brooklyn Bounty Culinary Advisors
Melissa Clark, Food Reporter, New York Times
Sarah Lohman, Historic Gastronomist, Four Pounds Flour
Paul Neuman, Chief Inspiration Officer, Neuman's Kitchen
Brooklyn Bounty Chefs & Purveyors
Bartleby & Sage
Brooklyn Brewery
Brooklyn Farmacy & Soda Fountain
Delaware and Hudson
EVENTfull
French Louie
Gillies Coffee
Neuman's Kitchen
OddFellows Ice Cream
One Girl Cookies
Poffees NY
Shelsky's Of Brooklyn
Waterfront Wines   & Spirits