The GANYC Apple Awards, given out by the Guides Association of New York City, celebrate the best in New York City culture, tourism and preservation. The Bowery Boys podcast has been deeply honored with two GANYC Apple Awards in the past — for Outstanding Achievement in Radio Program or Podcast (Audio/Spoken Word) and for Outstanding Achievement in Non-Fiction NYC Book Writing (for our book Adventures In Old New York).
And we are happy to announce that we will be HOSTING this year's ceremony — on Monday, March 4, at the SVA Theatre in Chelsea!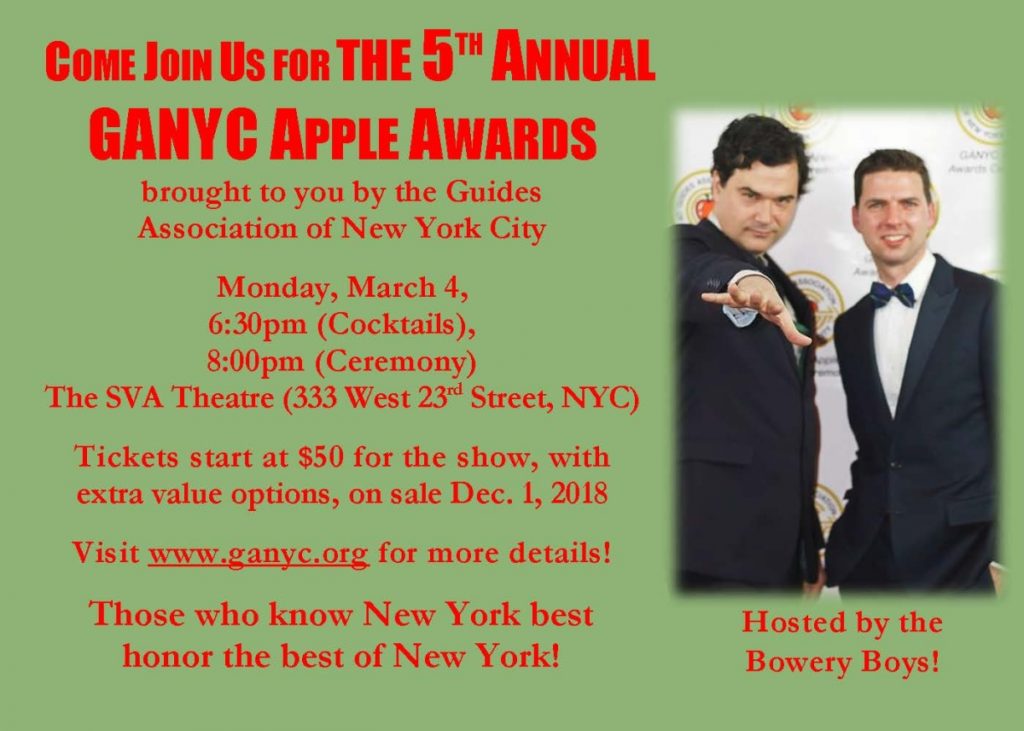 Get your tickets now and join us for an fun-filled celebration of New York City.
And familiarize yourself with this year's brilliant nominees:
2019 GANYC Apple Awards Nominees
Outstanding Achievement in Support of NYC Culture
New York Transit Museum
Shakespeare in the Park, The Public Theater
New York Public Library for the Performing Arts, Dorothy and Lewis B. Cullman Center
Harlem Late Night Jazz
Outstanding Achievement in Support of NYC Tourism
Paul Torres, Head of Sales at Statue Cruises
NYC Marathon
Lower East Side Jewish Conservancy
Fred Dixon, President and CEO, NYC & Company
Outstanding Achievement in Support of NYC Preservation
Municipal Art Society of New York
Save Ellis Island Foundation
Doreen Gallo, Director of the DUMBO Neighborhood Alliance
John Krawchuk, Director of Historic Preservation for the City of New York Parks & Recreation Dept.
Outstanding NYC Website
NYPL Digital Collections
New York Songlines
Daytonian in Manhattan
Untapped Cities
Outstanding Achievement in NYC Photography
An Rong Xu for The New York Times, Roderick George, in white, dancing with Josh Johnson on the outdoor stage of the structure built for "A Prelude to the Shed," at West 31st Street and 10th Avenue in Manhattan
Taegin Reisman, Inwood Seal
Andrew Garn, Empire State Pigeon, from The New York Pigeon: Behind the Feathers
Adeline Lulo, Picture 3 from Childhood, Clermont Documentary Project
Outstanding Achievement in Radio Program or Podcast (Audio/Spoken Word)
Our City. Our Story. 9/11 Museum & Memorial Podcast Series
Sites and Sounds, The Gotham Center's Open House podcast series
Criminal: Episodes 91 & 92 (The story of Evelyn Nesbitt & Stanford White)
Joanna and Kevin's Big Show, Kevin Fitzpatrick's podcast
Outstanding Achievement in Fiction NYC Book Writing
Manhattan Beach, by Jennifer Egan
The Subway Girls: A Novel, by Susie Orman Schnall
Miss Subways: A Novel, by David Duchovny
Outstanding Achievement in Non-Fiction NYC Book Writing
Tenements, Towers & Trash: An Unconventional Illustrated History of New York City, by Julia Wertz
Art Deco New York Map: Guide to Art Deco Architecture in New York City, by Allison Meier (Author), Jason Woods (Photographer)
Greater Gotham: A History of New York City from 1898 to 1919 (The History of NYC Series), by Mike Wallace
Broadway: A History of New York City in Thirteen Miles, By Fran Leadon
Outstanding Achievement in Essay/Article/Series Writing
What Climate Change Means for Urban Farming and Gardening, By Carrington Morris Photos by Christopher Simpson
Death of a Once Great City: The fall of New York and the urban crisis of affluence, by Kevin Baker
How to bring back mom and pop: NYC commercial rents are out of control; here's how to restore sanity, By JEREMIAH MOSS
The Village Voice Is Officially Dead, BY CHRISTOPHER ROBBINS
Outstanding Achievement in NYC Food
Rethink NYC
Ovenly, a women-owned socially conscious bakery chain in NYC
Seamore's, serving local sustainable seafood
James Beard Foundation's Impact Programs
Outstanding NYC Museum Exhibitions
Poetry in Motion at 25, at The New York Transit Museum
Never Built New York, at the Queens Museum
Heavenly Bodies: Fashion and the Catholic Imagination, at the Metropolitan Museum of Art
Comeback Season: Sports After 9/11, at the 9/11 Memorial Museum