When a terrible fire swept through lower Manhattan on the late evening of December 16, 1835, and into the morning, many believed the city would never recover.
As we've spoken about in our podcast on the subject, "the massive fire, among the worst in American history in terms of its economic impact, devastated the city … destroying hundreds of shops and warehouses and changing the face of Manhattan forever."
But as it turns out, for the overall growth of the city, the Great Fire was actually … great.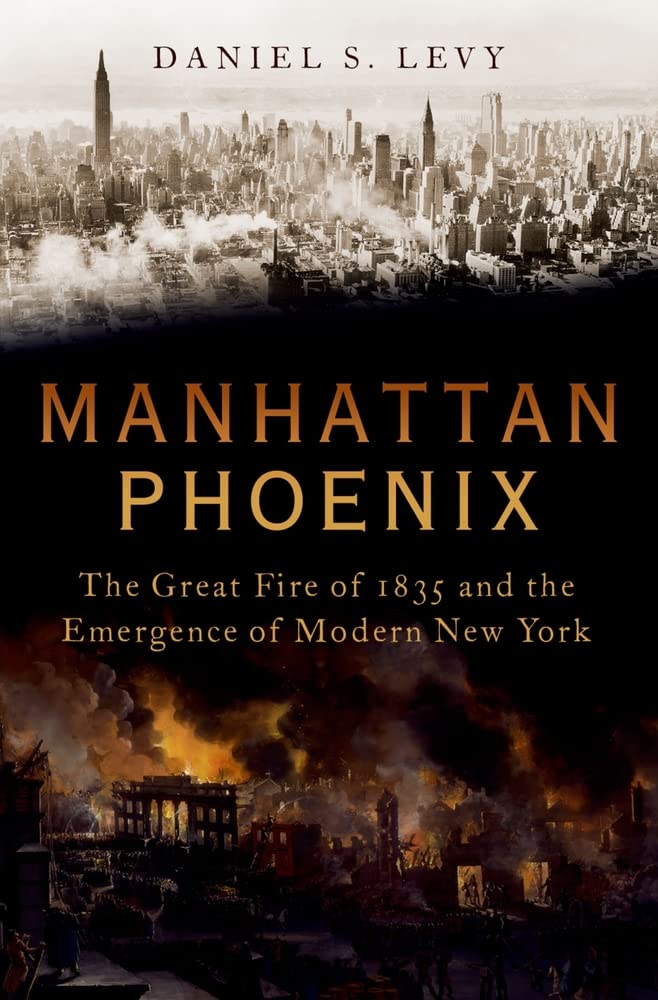 Manhattan Phoenix
The Great Fire of 1835 and the Emergence of Modern New York
Oxford University Press
Daniel S. Levy
In Manhattan Phoenix, Daniel S. Levy's vast, transformational history of New York City, we see a moment of destruction as the starting point for an all-new city, finally activating its potential and sweeping away the vestiges of faded colonial life.
While New York has barely survived the Revolutionary War, it did manage to avoid a direct conflict during the War of 1812. Thus the fire was its first genuine test of fortitude in the 19th century.
"But while the Great Fire's destruction was being swept away," Levy writes, "it was also being memorialized and transformed into a cultural touchstone about the resilience of New York. Many saw the Great Fire as an opportunity to profit, not only from the rebuilding, but also by referencing and even mythologizing the blaze and the efforts of those who fought it."
Levy's book recounts that brilliant rebuilding — from 1835 to the Civil War — the era when New York became a legitimate modern city, revitalizing its civic and social infrastructure and setting the stage for its blossoming international importance during the Gilded Age.
Among the greatest achievements (as we've recently discussed) was water, thanks to the marvelous Croton Aqueduct system, which brought both safe, clean drinking water and a new class distinction into the city. "With water flowing into homes, residences receiving water not only benefited from the fresh supply but also gained bragging rights by installing water closets and sinks."
Levy follows the stories of several prominent New Yorkers (including the abolitionist Lewis Tappan and department store pioneer A.T. Stewart) and wisely borrows beautifully written passages from two of the greatest diarists of the period — Philip Hone and George Templeton Strong.
I especially recommend this book to admirers of Gotham by Edwin G. Burrows and Mike Wallace as it has a similar thrilling sweep of historic narrative. A lot of material but engagingly told.