New York City subway riders in the mid 20th century knew who Miss Subways was. The beauty pageant, spotlighting "every day" New York women, featured placards which hung on all the trains (like the one above for 1948 winner Thelma Porter).
Well, Miss Subways is back, hosted by the City Reliquary Museum in a fabulous, flamboyant event in Coney Island. And this year, one of the judges will be none other — than Greg Young of the Bowery Boys Podcast!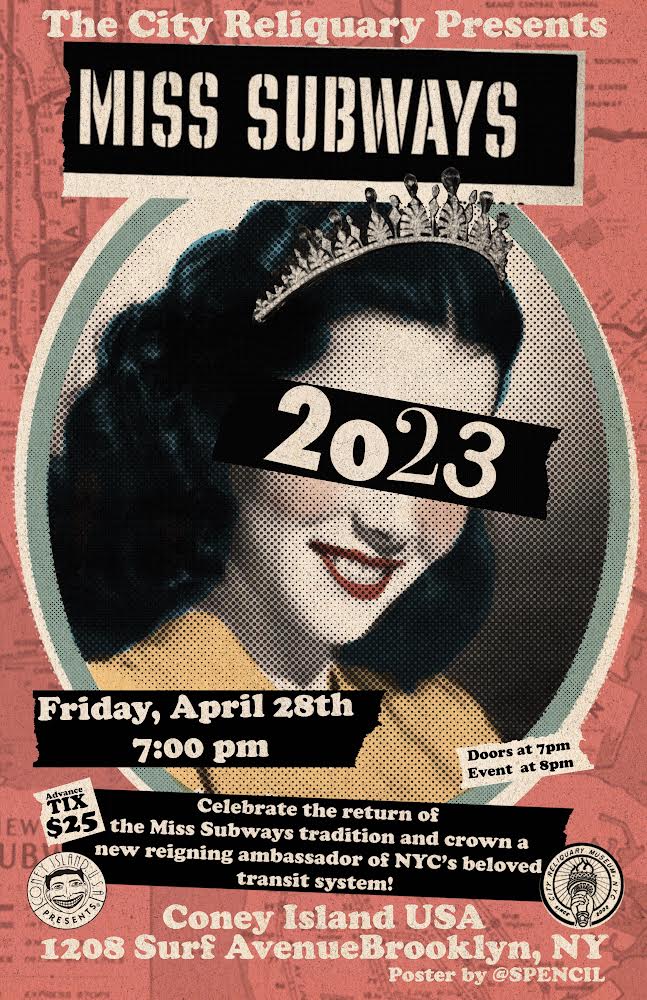 Here are the details:
Miss Subways 2023
Friday, April 28, 2023, Doors open at 7pm
Coney Island USA's Sideshows by the Seashore Theater (1208 Surf Ave., Brooklyn)
Tickets $25: GET THEM HERE
All proceeds benefit The City Reliquary and Coney Island USA.
This year's event emcee will be the current reigning Miss Coney Island and local burlesque performer Maggie McMuffin of New York's Last Chance Dancers.
Here are the judges who will determine this year's Miss Subways:
● Performance artist and Miss Subways 2017 Lisa Levy
● Unofficial talent scout of New York New York Nico
● Elf Girl and LES Art Star Reverend Jen Miller
● Instagram sensation Maxine the Fluffy Corgi
● Greg Young of the Bowery Boys
Better yet, why not sign up to be a contestant?
Here are the details, provided by The City Reliquary
Updated for the 21st century and first presented in 2017, the new Miss Subways by the City Reliquary expands on the progressive history of Miss Subways as the first racially integrated beauty competition and is open to contestants of all gender identities, body types, and ages 18+ to compete for the prized title of Miss Subways.
Are YOU Miss Subways 2023?
Contestants are invited to present an original performance that captures their relationship with the NYC subway, in all its complexity. "Performance" may be interpreted broadly. We welcome song, dance, poetry, or any other talent—Rubik's cube solving, hula hooping, speed knitting, playing the sousaphone…surprise us!
Application open now! Submit by April 18.

Past performances have included an ode to the G train, an experimental soundscape inspired by the Q, songs about subway proselytizers, and an appearance by the Wicked Witch of the Upper East Side and an immigrant from Oz.