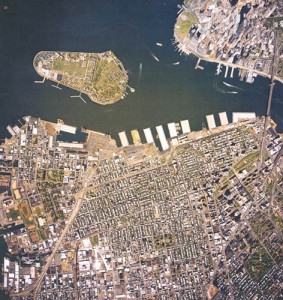 Some tidbits we forgot to throw into our podcast on Governors Island….
Governors Island holds a special place in aviation history. When Wilbur Wright, he of the famous duo, lifted his small aircraft from the airfield at Governor's Island to circle the Statue of Liberty and return, in Sept 1909 it was the first time a plane had flown over American waters.
Within a few years, a flying school was encamped on the island and was the busiest airfield in the US during the early days of aviation. You can find a memorial to this fantastic history in the form of a bronzed plane propeller, situated in the lawn of Liggett Hall, facing south.
Here's a shot of Wilbur's ride: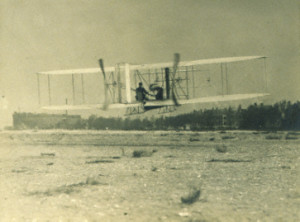 The Dutch, namely Wouter Van Twiller, purchased Governor's Island in June 1637 from "the Native Americans of Manahatas for two ax heads, a string of beads, and a handful of nails." New York State, namely governor George Pataki, symbolically purchased the island back from the US government in January 2003 for one dollar.
The Army built a railboard on the island, with the grand length of 1 3/4th milies of track, and was considered at the time to be 'the world's shortest railroad line'.
Fort Jay was named after John Jay, one of the authors of the Federalist and the first Chief Justice of the Supreme Court. However, do to a very unpopular treaty at the time that Jay had negotiated with the British — called the Jay Treaty — the name was changed to Fort Columbus, until it was changed back to Jay's name in the 20th Century.
Technically, Governors Island belongs to no borough. Neither do Ellis Island, Riker's Island, Randall's Island, and Roosevelt Island. Although administration of the island's business is naturally run through Manhattan. Its zip code, incidentally, is 10004, which it shares with other Battery Park business.
During the 1863 draft riot, Governors Island was actually stormed by rioters who wanted to get into the Army's stockpile of weapons. They were held back by civilians on the island, because the Army soldiers were over guarding buildings in Manhattan!
Some would like to see Castle William turned into the New Globe Theatre, a 21st Century homage to Shakepeare's old stage. We see a structural resemblance, but frankly we're not for this idea.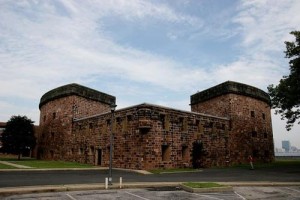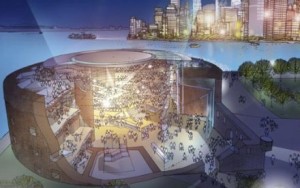 Reagan, Bush and Gorbechov came to the island in 1988 for a summit, a year before the fall of the Berlin Wall. Here's the juicy details.