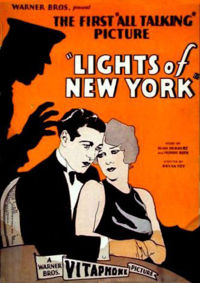 On this day, 79 years ago in 1928…
The first ever all-talking movie, "The Lights of New York" debuted in New York's Strand Theatre at midnight, to an enrapt audience. (It would release nationally on July 28)
"Lights of New York" was a precursor to the great crime films of the 30s that would make Edward G Robinson and James Cagney into huge stars. The plot involves Broadway speakeasies, chorus girls and 'toughies', featuring a cast of vaudevillian entertainers.
The film was a box office smash (grossing $2 million dollars, or what Tom Cruise makes for a single day of work today) and presaged the death of the silent era.
Of course, they hadnt quite got the art of editing down, and the film still included 'transition' placards.
"In one scene in a barbershop, a character began a speech at one end of the room, walked across the room, and started talking again only when he had come to a complete rest at the other end. He could not speak until he had parked himself under the mike."
The Eagle also notes the film's other contribution to the world of cinema: it's the first of many, many, many gangster films to feature the line "Take him for a ride." Martin Scorcese and The Sopranos thank you kindly.
Oh, and you might be asking — where's the Strand Theatre? A premier auditorium for film and Big Band shows for over 70 years, The Strand was demolished in 1978. But you can go see where it used to be; the former address is 1579 Broadway. There's a Hershey's Chocolate Super Store there now.
Cinema Treasures, one of our favorite websites, has an elaborate write up on the
fate of the Strand
.