The Film Forum is in the midst of their five week NYC Noir screening series, featuring some of the best thrillers, mysteries and action films set on the streets of the city. In this blog every Thursday of the series, we'll feature a bit about one of the films, and encourage you to go check out some of these classic flicks. Past entries of this series can be found here. Showtimes and other movies in the series can be found at the Film Forum's website.
This weekend we feature a tense and perfectly 70-ish action flick The Taking of Pelham One Two Three.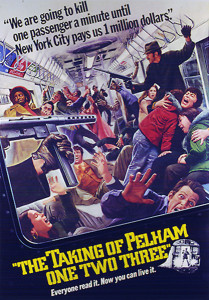 The film is best known now for its very dated but (if you're budding historians like us) absolutely prototypical settings in a gritty, sweaty New York City. A group of hijackers demanding a ransom of one million dollars (Ha!) hold the 123 train and its unfortunate occupants hostage. On the case is Jerry Stiller and Walter Matthau, both playing the first of many grumpy old men in their futures, as police officers trying to negotiate with the crafty terrorists.
"Pelham" a fantastic example of the zippy, thriling action films that came in the wake of the French Connection (also in the Film Forum series). With a classic soundtrack by David Shire (Talia's husbund), the best scenes are in the subway cars, with hijackers Martin Balsam and Robert Shaw wrestling with a most diverse group of Manhattanites and their attitude. Those scenes were partially shot in the tunnels below the old Court Street line in Brooklyn — which has now been transformed into the New York Transit Museum.
But as a personal story, my favorite location shots are those involving the police racing to get the hijackers their ransom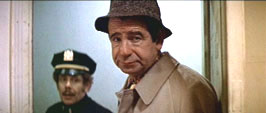 money. When I first moved to New York, I lived on the corner of Park Ave and 23st Street (back when it was possible to be poor and live there!) and I happened to rent this film. What a surprise to see Park Ave, the stretch between 34th and 23rd, as location shots, with familiar buildings mixing in with now-forgotten shop awnings and people with crazy feathered hair and afros!
Of course, it's actually the 6 line (that still goes to Pelham Bay Park) that gets hijacked. The 1-2-3 line, meanwhile, runs along the west of the island for much of Manhattan. Its the 1:23 6-train that is hijacked. Yeah, weird, New York subway trains have timetables!
The film runs all this weekend at the Film Forum.