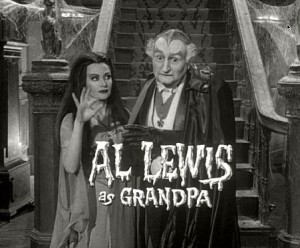 Before going any further, I would be remiss if I didn't mention its most famous monster man, the godfather of Roosevelt Island and one of the most original New Yorkers who ever lived – Al 'Grampa Munster' Lewis.
Perhaps these days it's difficult to understand a man like Al. He's a crusty mix of old school vaudevillian and opinionated local celebrity who ingratiated himself with cantankerous and uncommon familiarity. Everybody seems to have an Al Lewis story. I met Grampa Munster only once in the 90s, years after his Greenwich Village restaurant — naturally called Grampa's Bella Gente, (at 252 Bleecker Street) — had opened in April 1987. He was sitting in a rocking chair, cackling the night away. But how I wished I had taken my friend's offer a few years later; he was having a drink with Al at Roosevelt Island's only bar (I believe it was Julie's Back Page).
Bigger celebrities have certainly lived on Roosevelt Island — Sarah Jessica Parker started her acting career living there — but none as beloved or as representitive of a certain type of true-blue New Yorker.
Lewis was either born here in Brooklyn, or out in Wolcott, NY; in the year 1910 or (more likely) 1923; with the birth name of Alexander or Albert. Depending on who Al was talking to, and when, the details of his life would tranform with the same dexterity that his TV persona Grampa Munster used to change into a cheap rubber bat. He purported to have a doctorate in child psychology at Columbia University, although his occupations were also purported to include a hotdog vendor at Ebbets Field, a store detective a former circus performer, and a Marine in World War II.
His big television break came with two seasons, Car 54, Where Are You?, playing a wacky Bronx police officer, cracking kooky cases with his partner, played by Fred Gwynne. Two years later he would join Gwynne in another series in the role that would define him. Literally. Like another vampirical player Bela Lugosi, Lewis would wear the cloak and mantel of Grampa Munster throughout the rest of his life, to nearly everything. For three campy seasons, "The Munsters" gave us Lewis amidst bubbling beakers and electrified gadgets in the basement of 1313 Mockingbird Lane, hocking sarcastic barbs at his Franken-son-in-law Herman.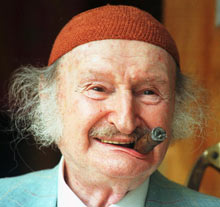 Lewis would keep working in television and film but his political leanings would coax him into activism of an often surprising sort. (Mitchel Cohen remembers first meeting him in 1971 at a Black Panthers demonstration!) With his wife Karen, whom he married in 1979, Lewis became closely associated with the Green Party. In 1998 actually ran for New York governor against George Pataki, a rather ambitious challenge for a man well in his 70s. He tried to run as 'Grampa Al Lewis' but was rejected by the Board of Elections. He did receive 52,000 votes, of which I believe I was one of them.
He settled with his family in Roosevelt Island and slowly became involved in radio broadcasting. He had a show for many years on WBAI which Karen took over once became ill. One story claims he 'pestered' himself into the job by constantly calling with "comments, [to] correct mistakes or complain about what was on the air." He well known to New Yorkers of the early 90s for being a frequent guest on the Howard Stern, once memorably haranguing the FCC with a flurry of bleepable expletives.
According to a recollection by Cohen, "I remember when Al was already sick, a Reclaim the Streets party/demo had ended up on Roosevelt Island. We marched past Al and Karen's apartment, and I started the chant: "We love you
Grandpa, we miss you, get better!" and pretty soon the hundreds of us took up the chant, lights came on in the apartments, people looked out the windows, and everyone waved, knowing whom we were chanting about as we snaked by."
He died at his Roosevelt Island home on February 3, 2006. At his funeral, one friend said,
"Who was Al Lewis? A raconteur. The de facto mayor of Roosevelt Island. The best-dressed man on Roosevelt Island. He held court in front of 546 Main Street, the senior citizens center…" It should be noted that Grampa Munster's signature ride, the 'dragula' gold coffin on wheels, rolled up to the door of the church.