With apologies to the people who reside there, I must admit that Roosevelt Island has always freaked me out. Which is why I like it actually. Over the next few days, I'll highlight some of my favorite Roosevelt Island places and people, some familiar to New Yorkers who have never ventured there.
The "little Apple", i.e. the mini-Manhattan island floating below the Queensboro Bridge in the East River, Roosevelt Island is an anomaly. Although just across the water from lucrative real estate and everchanging Manhattan and Queens landscapes, it seems completely frozen in time.
Over the years, its been called Hogs Island, Blackwell Island, and Welfare Island, none exactly a draw to trendsetters or developers. (Although, I guess if Hell's Kitchen can become a 'hot neighborhood, anything can.) It was given its current name in 1973 to welcome a spectacular new memorial to Franklin Delano Roosevelt, designed by the renowned Louis Kahn. If you're wondering why you've never heard of it, its because it was never built. So even its name harbors a certain incompleteness. (However believe it or not, there are still plans to build it!)
Our first stop along the Roosevelt Island is probably its most recognizable feature, at least to most Queens or Manhattan residents — the Renwick Ruins, on the southernmost point of the island. Delightfully lit year round, it rises out of the East River like a haunted castle, with stark turrets and dark windows peering back at the city. More impressive than its Halloween-like trappings is the fact that such a large ruin has managed to survive near Manhattan at all without being torn down and turned into a glass condominium. For that reason, Renwick Ruins should creep you out and impress you in equal parts.
I went over a couple weeks ago and took some snaps close up. (Not the best pics you'll ever see of it, but you get the idea. Some better daytime shots can be found on Flickr.)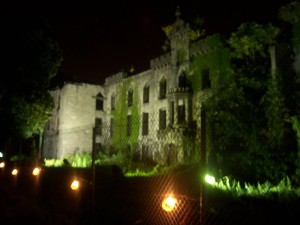 The almost fairytale Gothic structure was designed by James Renwick — most notable for St Patrick's Cathedral, Grace Church, and the Smithsonian Institute in D.C. — as the location of a hospital for smallpox patients. It was built in 1856 using labor from the neighboring lunatic asylum and in fact supplanted a fort built by one of its more passionate inmates. (More on that later.)
Roosevelt's relative isolation made it an ideal spot for a smallpox hospital, and the rooms were soon filled with hundreds of patients, many of them poor immigrants too distrusting of our country's immunization practices, or Union soldiers shipped here to recover from the illness. Within twenty years, the New York Board of Health took over the building and made into a nurses residences and school maintained by City Hospital. That too was then abandoned when City Hospital was transferred off of Roosevelt to Queens.
Luckily the deteriorating structure was saved by the Landmarks Preservation Commission in the 60s and has only been preserved to the extent that its structure is maintained. It remains beautifully spooky to this day and a testament to the notion that not every inch of New York real estate need be functional.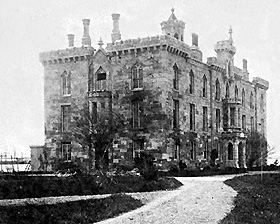 The Roosevelt Island Historical Society has a more detailed history as well as a fine description of its architectural details. The site is closed to the public, but its home in Southpoint Park is occasionally opened for special events.
NOTE: As per the time of year, I'm only highlighting Roosevelt's spookier elements. It's obviously a normal and healthy place to live, mostly free of ghosts and insane lunatics. I promise. There are two good blogs that deal specifically with Roosevelt Island — Roosevelt Island360 and Roosevelt Islander.