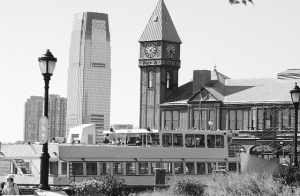 Say it isn't so! According to Gothamist, the city has finally decided to do something about Pier A in Battery Park, that beautiful, jutting bit of nostalgia sitting negligent just feet from the water taxis to the Statue of Liberty.
Its not difficult to picture the pier as it once was, and as it could potentially be today; you can almost envision children with cotton candy skipping along the side of it.
The pier will naturally be used by the National Park Service as the liftoff point for visitors to Ellis Island and Lady Liberty. Of course, these plans have scuttled before. Hopefully they can adhere to their current completion date of 2011.
The pier was built in 1886, using many materials from the Brooklyn Bridge. Its striking clock tower, erected in 1919, has the distinction of becoming the first World War I memorial, adjoining a park now filled with war memorials.
The pic below is from 1936.