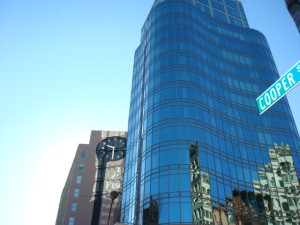 Before we leave Cooper Union, I thought I was draw your attention a rather controversial decision they've made in the past few years that has marred an institution of Astor Place — the Carl Fischer note clock.
Carl Fischer, still a leader in printed sheet music, began as a tiny musical instrument store on East 4th Street in 1872, successfully incorporating printed music by the end of the century. Carl's son Walter carried on the business into the next century, moving the enterprise into a new beige 12-story building at 62 Cooper Square, right off Astor Place in 1923.
Throughout the years, it was the place in downtown New York to grab the sheet music for any occasion and even into the 1990s held on to its old-school charm, with uniformed attendants in the elevators and little evidence of modern technical organization. In 1999, the company moved out of the building, which now houses 26 loft apartments. Their new location is at 65 Bleeker Street.
Even if you never bought sheet music, the store was a fixture of Astor Place due to the charming clock, blooming from a gigantic eighth note, that stretched down the side of the building, hovering over a small parking lot below. There has always been a clock alongside the building as long as Fischer was in the building, though it the past it was incorporated into murals featuring a boy scout with a drum, an art-deco sun pattern, and a marching band.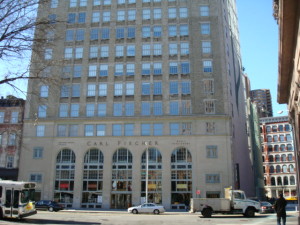 The parking lot has always been owned by Cooper Union, and it's no surprise given the condo frenzy that has possessed New York that in 1999, the same year that Carl Fischer vacated the premises, they decided to lease to Gwathmey Siegel & Associates for a new condominium.
That parking lot has a bit of a storied history of its own, a frequent spot for people to sell a mix of unusual wares along the street. Author Michael Galinsky wrote about this curious intersection several years ago and kindly forwarded me a link to Flickr that featured some pictures from the book which I highly recommend you check out, especially if you're a fan of 80s New York street scenes.
However, that parking lot is gone, replaced with the Astor Place Tower, a sleek 21 story glass tower. I leave it to you to form your own opinions about this building. What is has done, however, is completely dwarf the famous old clock, completely obscuring it at many times of the day with a glare and creating an awkward canyon between the Tower and the Fischer building that can't be creating a very attractive view from certain windows.