The New York City skyline, picture taken in 1908 (click to see detail)
Welcome to the future of New York City — the amazing year of 1908! A look into the crystal ball find that the following things will happen this year: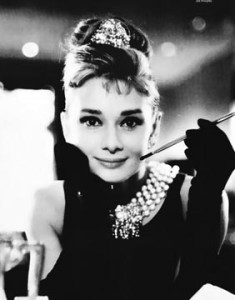 You Haven't Yet Come A Long Way, Baby
The New York board of aldermen passes the Sullivan Ordinance on January 21st, banning women from smoking in public. "Hotel or restaurant proprietors" who allow women to light up on their premises will be fined. Various citizens spoke to the aldermen in defense of the act, including one 'Little Tim', who claimed that women smoking seemed to occur the most in the 'lower east side'. Playing devil's advocate, one councilman decried why they didn't prohibit everyone from smoking in hotels and restaurants, "particularly boys under 21 years old"?
In covering this scandalous turn of events, the New York Times likens the law to Peter Stuyvesant's ruling that all women wear 'broad flaunces' and only carry themselves in 'shuffle and turn' moves while dancing.
The mayor overturned the ruling, probably because it was very stupid to begin with.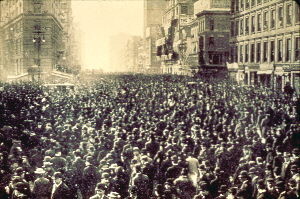 These 'Auto-Mobiles', They Really Work!
The New York Times sponsors a most ambitious competition using the newfangled 'automobile' devices. Referred to as The Great Auto Race, teams from Italy, Germany, France and the United States will steer their national auto motives on a truly cross-country voyage. Starting in New York City on February 21 (see picture above in the new 'Times Square'), competitors followed an often hazardous path through Chicago, San Francisco, up to Valdez Alaska, over the Bering Strait to Japan, Vladivostock, Moscow, Berlin and then the the finish line in Paris.
We predict the Americans, led by driver George Schuster Sr. will win after a trek of 169 days. We also predict that Schuster will hold the title of longest roadtrip well into the future, as who would be silly enough to try this again?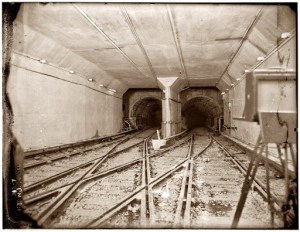 New York Invaded by 'Bridge & Tunnel' Crowds!
The first tunnel under the Hudson River, connecting Hoboken, NJ, and lower Manhattan around Christopher Street, officially opens on January 4. Other 'PATH' trains are tested out throughout the year, with even President Theodore Roosevelt getting into the act. On February 25, the president through a switch (via telegraph) in his office at the White House in Washington, throwing on the power (eventually) for the New York line running from 19th Street to New Jersey. At midnight the train would open for paid customers. New Jersey, welcome to New York!
Tomorrow — we look into a future New York City in 1908 that will include electric diamonds, the North Pole and something ominous by the name of BAM!