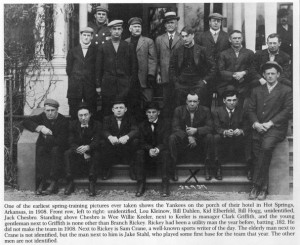 The 1908 New York Yankees — Losers!
Do you dare take a second glimpse into the crystal ball of things foretold of the upcoming year 1908? Observe and take care, for the following things will all happen this year: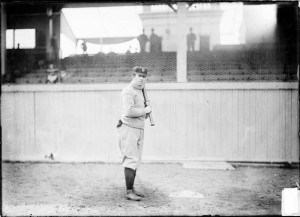 Baseball Scores Magically Appear … on Madison Square Diamonds!
That's dashing Willie Keeler above, in practice for the New York Giants, and in August 1908, he and his team take two wins from the Pittsburgh team in a thrilling double-header. New Yorkers, however, got to share in the action.
A rolling tally of the score was scrolled over a new device — the Compton's Baseball Bulletin — a series of 'electric diamonds' broadcasting the scores at Madison Square Garden, at its comfy new home on 26th and Madison Ave. We predict this device will continue to broadcast scores for the team throughout the rest of the season.
This wonderful invention of lights distract us from the woeful performance of our other baseball team, the Yankees, who on October 6, will lose their 100th game of the year, eventually finishing the season in last place with an appalling record of 51-103.
Luckily the New York Giants will never leave New York and they will be our premier baseball team well into the future!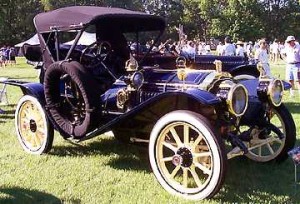 Manhattan Hosts Voyagers, Heroes, Exhausted Families
New York City will be the starting point and final destination for a host of historic and majestic adventures — the first being experienced by Mr. Jacob Murdock, his wife, two children and a mechanic along for the ride. On April 24, they boarded their family Packard Model 30 (a 1909 model is shown above) and drove for 32 days straight across the United States, arriving in New York City on May 26. It is not known how many times the children cried "Are we there yet?"
A far more experienced traveler Robert Peary has planned one more northernly trek to the North Pole. On July 6, he and his crew set sail with great fanfare from New York City's harbor, aboard the vessel Roosevelt.
Peary is well on his way northward when on August 29 the United States Olympic team members– competing the fifth Olympic games in London — are greeted by thousands of fans in a lavish ticker tape parade in the canyons of New York's financial district.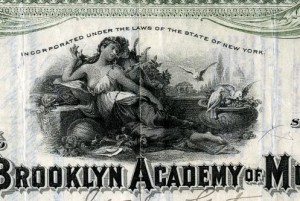 Culture Returns To Brooklyn!
Patrons of the arts in Brooklyn were crestfallen with the Brooklyn Academy of Music in Brooklyn Heights burned to the ground in November 30, 1903. Never fear, however, for the Philharmonic Society now has a new home in Fort Greene. The new Brooklyn Academy of Music, with its luscious facade and massive spaces for orchestral and theatrical performances, opens on November 4th with a production of Charles Gounod's Faust starring Geraldine Farrar and Enrico Caruso.
And if that doesn't make your proverbial highbrows atwitter, just a couple weeks later, on November 16, the Metropolitan Opera hires a young conductor that will be, ahem, instrumental to the company's reputation — Arturo Toscanini.
Baseball archival photos from the wonderful Baseball Fever fan site.